Jane Ingram Allen
Peep Show, Summer 1998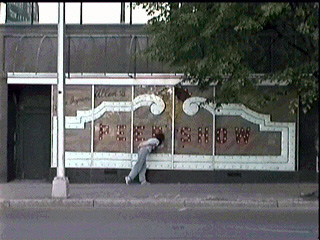 "Jane Ingram Allen's Peep Show", a storefront window installation in downtown Utica, NY, was installed on June 1 at the old Boston Store on Genesee Street, Utica's main street. This public art project is part of the Utica Monday Nite series of art and performance events held in downtown Utica throughout the summer months.
The window installations are supported by a grant from the Central New York Community Arts Council through their regrants program. Jane Ingram Allen, a sculpture/installation artist living in Hamilton, NY, was one of three artists invited to do a window installation on the theme of "renewal." Jane chose to do a tongue-in-cheek work playing with the meanings of the word "peep" and inviting the active participation of viewers. Jane's work uses some of the many bird sculptures she has made for her "Bird Watching Projects."
The very words "peep show" conjure up images of tawdry films for little money in seedy neighborhoods. Actually the peep show has a long history as a form of street entertainment which was started by artists almost five centuries ago. Peep shows were a popular source of entertainment and education on the streets of the U.S. and Europe during the 18th and 19th centuries. The original peep shows featured music, puppets and the clever patter of the showman and were street entertainment geared to the whole family.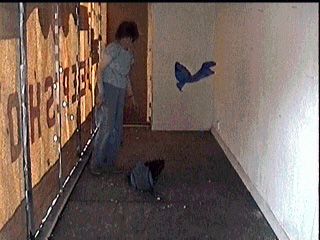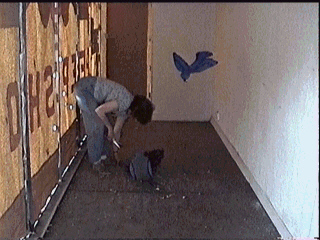 Jane's window installation uses the theme of new life and baby birds as a symbol of renewal and comments on the prevalence of "peep shows" and other less desirable businesses which are taking over once vital downtown areas in many cities. Jane's "peep show" entices viewers to look through peep holes in the brown wrapping paper covering the large storefront windows to see a sculpture/installation of a family of bluebirds made of painted handmade paper over a wire armature. The bluebird is the state bird of New York and also a symbol of happiness and hope. Inside the window, there is a mother bird, father bird and nest made of twigs and paper pulp complete with two baby bluebirds.
The plain brown wrapping paper covering the windows has a painted simulation of a theater marquee bearing the title "Jane Ingram Allen's Peep Show." The lights for the marquee are pasted on yellow paper polka dots in homage to the work of Yayoi Kusama, a Japanese-American artist who did an installation called "Kusama's Peep Show" in 1966 at Castellane Gallery , NYC. Viewers of "Jane Ingram Allen's Peep Show" will also hear a continuous recording of peeping sounds when they come near the window.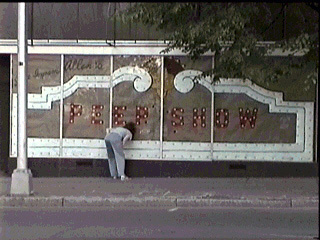 Jane's window installation will remain on view through September 1998, and will be featured on art walks sponsored by Utica Monday Nite. For more information about Utica Monday Nite events, stop by the office at 106 Genesee Street, Utica, NY, or call (315) 736-7510.
Jane's exhibit is being enjoyed by many people.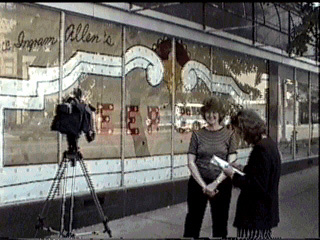 Click on the image of Jane being interviewed By WKTV News Channel 2 and see the broadcast.
Return to Bird Watching Page