Jane Ingram Allen
Artist's Statement for "Bird Watching Projects"
Since I was a child growing up in Alabama I have been fascinated with the sounds and sights of birds and have developed a habit of bird watching. For a 6th grade project I made my own bird book which covered all the common birds in Alabama and was complete with written descriptions and drawings. My bird book "Mr. Bluebird's Story" won a statewide contest that year which was sponsored by the Alabama garden clubs. I have continued to study and watch birds.
Birds fascinate me partly because of the tremendous differences amidst such uniformity. I especially like watching flocks of birds and noticing individuality in the group as well as the patterns and spatial relationships formed by the groupings. Many of my works are composed of multiple, similar but not identical units which are arranged as a site specific sculpture/installation work. Birds seemed a natural subject for this type of work.
My birds are each handmade, and each one represents a certain species. I make the paper that the birds are constructed with from abaca fibers in my studio, so that I can design the character of the paper as part of the finished piece. I use recycled coathangers as the armature, molding it to form a skeletal frame for the flat paper sheets which become the three-dimensional bird form. Although all of a species are similar, each individual bird has its own personality with slight differences in form, coloration and character. The birds are coated with outdoor polyurethane to make them weather resistant. This enables me to use this seemingly fragile and temporary material as outdoor sculpture.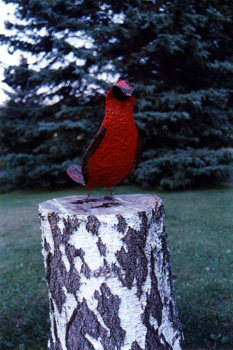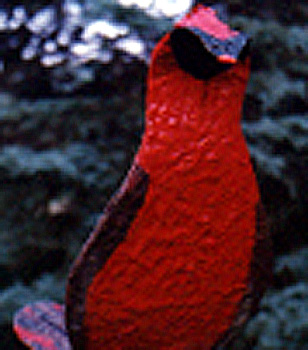 These photos show a cardinal with a close up. This represents one of the 200 plus bird sculptures I have made which are installed as site-specific installations.

Return to Bird Watching Page