Jane Ingram Allen
RECENT EXHIBITIONS
"One World - Many Papers" a collaborative art project by Jane Ingram Allen with artists from 42 countries, Distillery Gallery (www.distilleryboston,com), Boston, MA - April 3-May 15, 2009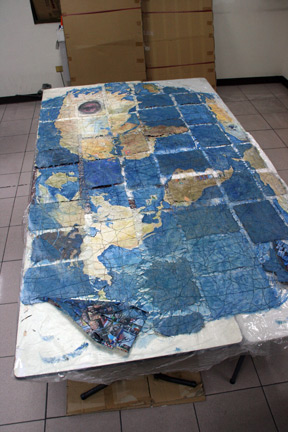 This work was also exhibited in Taiwan in June 2009 at the American Cultural Center, American Institute in Taiwan, Taipei, along with other map-related artworks Jane created in residencies around the world. Other exhibitions of the One World Project here held in 2010 in France, Spain and England. In 2011 the One World project will be shown in exhibitions in Thailand and the Philippines. This photo shows the work in progress in Jane's studio in Taiwan. For more information about the "One World - Many Papers" project go to Jane's blog atjaneingramallenart.blogspot.com
"2009 Incheon International Women Artists' Biennale," Incheon, South Korea - August 1 -31, 2009
Jane was invited by the curators to exhibit her installation art at this biennale in South Korea. Jane exhibited the "One World - Many Papers" project at this biennale in Korea.
"The Alphabet Show," Essex Art Center, Lawrence, MA - June 26 - Aug. 14, 2009
Jane was invited by the curators at Essex Art Center to participate in the second "alphabet" show organized by Essex Art Center. 26 seleced artists were each given a letter of the alphabet and created a work of art for that letter. Jane had the letter "j" and she made an artist's book work that is suspended in space and created from handmade paper. The book is in the shape of a "J" and has all the words that start with "J" that are used for sound and motion....such as jingle, jump, jerk, jazz, etc. .
"Waterworks" and "Transformers" at Boston Sculptors Gallery, Boston, MA - July 8 - August 7, 2009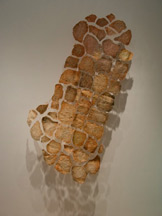 Jane was invited by Boston Sculptors to curate the July group exhibition to include selected works by the gallery's 34 member artists on the theme of change or transformation. Jane also exhibited some of her own sculpture installations in the front gallery at Boston Sculptors. Jane's exhibition titled "Waterworks" included her installation works that reflect on aspects of change and water. The show included some of her recent works about water issues created during residencies in Taiwan, Tanzania, Africa and Taipei, Taiwan.
Jane Ingram Allen and Marcia Widenor: Still Waters" - Tenri Gallery, Tenri Cultural Institute, 43A W. 13th St., New York City, NY - May 7 - May 31, 2008
Opening Reception: Thursday, May 8, 6-8 pm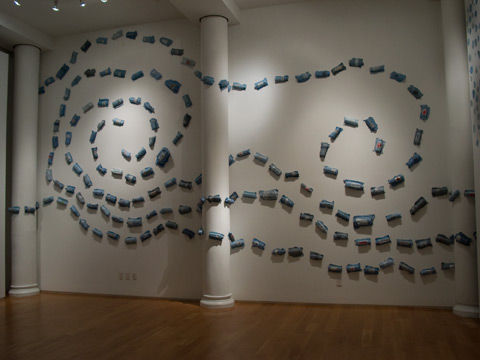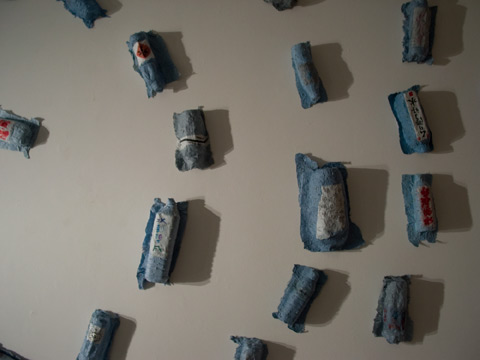 Jane's recent series of works about water and the environment were featured in this two-person exhibition in New York City. Jane's site specific installations in this exhibition emphasized the importance of water and the need to conserve water resources. For the installations Jane used plant fiber handmade paper pulp containing seeds for wildflowers. One of the works "Still Water" was made during her recent artist in residency at Taipei National University of the Arts in collaboration with art students at the university. This installation was made up of 200 cast handmade paper water bottles with unique labels created by the students and arranged in a spiral configuration on the gallery walls recalling the trash vortex in the North Pacific and relating to problems of plastic trash in the world's oceans as well as the lack of pure drinking water.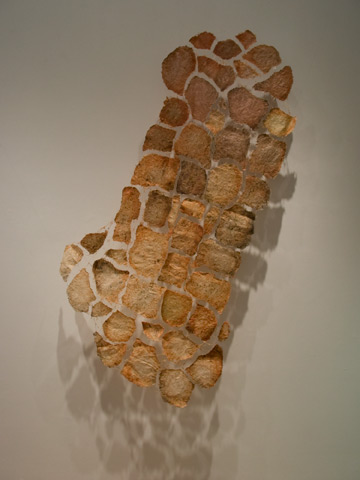 Another installation titled "No Water" was made with handmade paper from plants of Africa created during Jane's January-February 2008 residency in Tanzania, Africa. This work refers to the lack of water in many parts of Africa and problems relating to global climate change here. The installation "Falling Water" consisted of 10 panels of handmade paper cascading from floor to ceiling. This paper pulp was colored with non-toxic dye and painted with Chinese ink and contains seeds for wildflowers.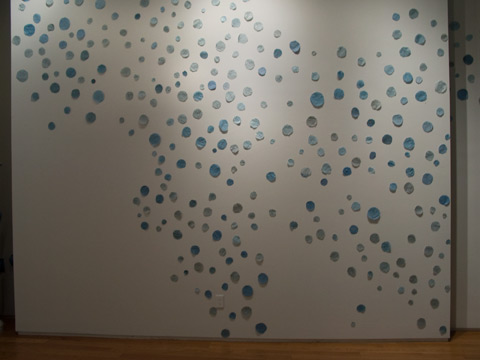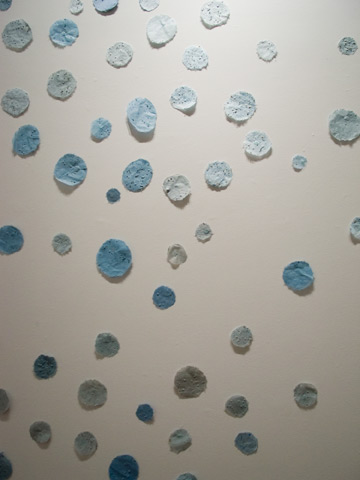 Another installation in the exhibition was called "Every Drop Counts" and consisted of many handmade paper drops arranged on the gallery wall like water drops on a window. The paper pulp contained seeds for wild flowers and visitors were invited to pledge to conserve water and then take a drop from this installation home with them to water and plant to grow as wildflowers. The installations in the exhibition of handmade paper with wildflowers seeds in the pulp was recycled into the earth after the exhibition to come back as living blooming wildflowers.
"Mapping - Memory and Motion in Contemporary Art - Katonah Museum of Art, Katonah, NY, USA - October 3, 2010 - January 9, 2011
Jane's work was included in this group show of works relating to maps and mapping curated by Guest Curator, Sarah Tanguy. In this exhibition Jane showed 3 of her Taiwan Site Maps created during her Fulbright artist-in-residency project in Taiwan.
"Heating Up: Art and Ecology" Evanston Art Center, Evanston, IL - October 5 - November 9, 2008
tJane's work was included in this invitational group exhibition of works relating to art and ecology. The exhibition included Jane's work titled "No Water" created during her 2008 residency in Tanzania. This work is focused on raising awareness about the drought problems in Africa and lack of clean drinking water in this region.
Fiber Cartography: Mapping Imagination and Experience" - Brookfield Crafts Center, Brookfield, CT - March 25-April 29, 2007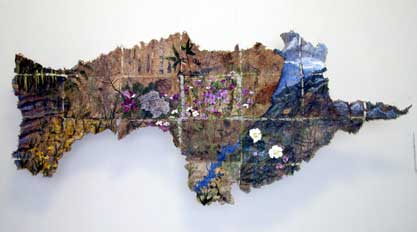 Jane's recent map-related works are included in this group exhibition curated by FIBERARTS Associate Editor Liz Good. The exhibition includes two of Jane's Taiwan Site Maps that were created during her 2004-05 Fulbright Scholar Award artist in residency project in Taiwan. For more information about this exhibition click here.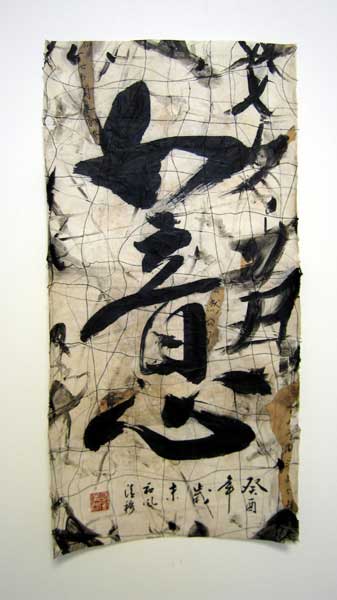 "Cursive" - Artist Commune Gallery, Kowloon, Hong Kong - April 27 - May 25. 2007
This group exhibition of international artists making artworks related to writing is curated by NYC curator Thalia Vrachipoulos and Hong Kong gallery director Shinyi Yang. The show will include two recent works by Jane in a new series using found objects and scraps of Chinese calligraphy collected in Taiwan flea markets. For more information about the Artist Commune exhibition, click here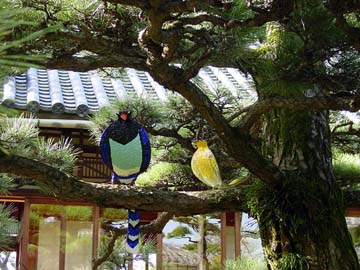 "International Exhibition from ART BASE NULL," Arai House in Izumisan City, Osaka, JAPAN, April 2 - 6, 2004.
Opening reception:April 2, 2004.
Jane's installation "Bird Watching at Arai House," inclludes 10 bird sculptures representing birds common to the area and sited in the trees of the garden of this traditional Japanese-style residence that is a historical landmark.
"World Map Room Exhibition by Jane Ingram Allen at Japanese Paper Goes International," Japan Paper Academy Symposium and Exhibition, International Community House, Kyoto, Japan, June 15-21, 2004.
For this exhibition at the Japan Paper Academy international symposium in Kyoto, Jane made a site-specific installation with many handmade paper map works that she has created in artist in residencies around the world. The installation included handmade paper map constructions Jane has made in the USA, Japan, Brazil, Nepal and Taiwan. Jane also made a slide lecture for the symposium about her experiences as an artist in residence in these countries.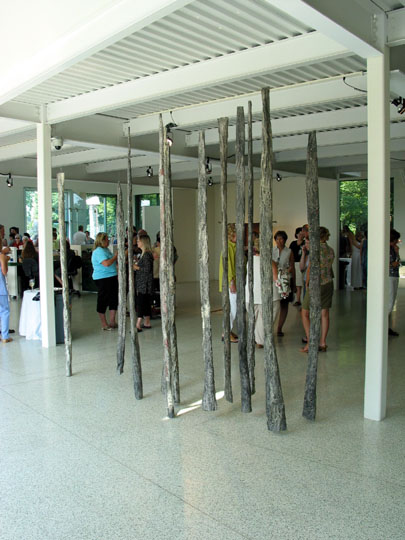 2003 International Exhibition, International Sculpture Center at Grounds for Sculpture, Hamilton, NJ, July 26 - Sept. 28, 2003. Opening reception, Saturday, July 26, 2-6pm.
An international panel of jurors selected Jane's work from a group of over 1000 entries for this exhibition of contemporary sculpture. Jane is exhibiting a suspended installation piece "Tree Skins," consisting of multiple castings of handmade paper tree trunk forms with charcoal drawing on them, coated with polyurethane. For more information about this exhibition visit the Grounds for Sculpture website and the International Sculpture Center website.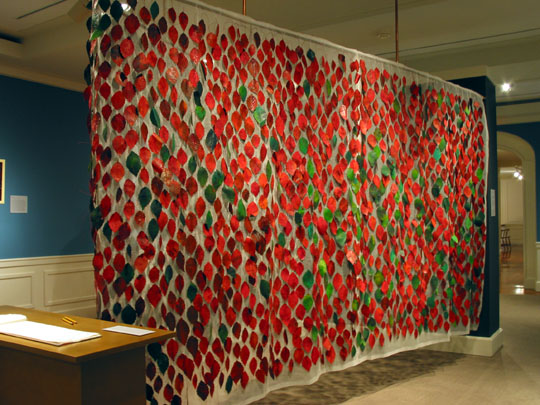 "Modern Medium: Contemporary Art in New York State, Fenimore Art Museum, Cooperstown, NY, April 1 -June 15, 2003. Opening reception, Saturday April 26, 7-9pm.

This first exhibition of contemporary art at the Fenimore Art Museum, Cooperstown, NY, focuses on how artists use their chosen medium. The show includes a site specific installation of Jane's work "Turning Over a New Leaf."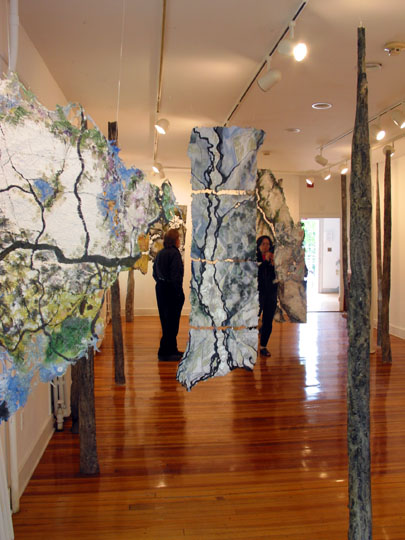 "Of Time and the River," Spencertown Academy, Spencertown, NY, May 17 - June 29, 2003. Opening reception, Saturday May 17, 4-6pm.

Jane's exhibition of new work at Spencertown Academy Art Center, near Chatam, NY, will feature indoor and outdoor site-specific installations on the theme of change over time and feature Hudson River map pieces of handmade paper and other materials collected along the Hudson.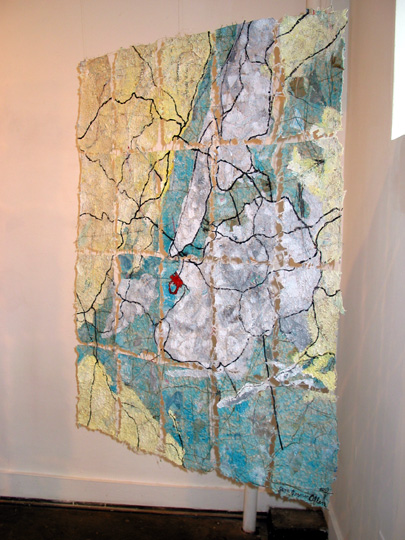 "Site Maps - Red Hook," Kentler International Drawing Space Exhibition, Brooklyn, NY - May 23-June 30, 2003. Opening reception, Saturday May 23, 3-6pm. Gallery Talk, 2 pm.

Jane's exhibition atKentler International Drawing Space, Brooklyn, NY, will feature a site-specific installation of new map-based works of the Red Hook area of Brooklyn lusing materials collected from the site. Jane will be an artist in residence May 19-23 in Red Hook and work with community participants to create elements of fthe gallery installation focused on community environmental issues.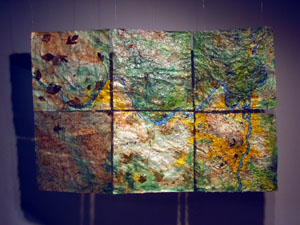 College of Saint Rose Faculty Exhibition, College of Saint Rose Gallery, Picotte Hall, 324 State Street, Albany, NY - Feb. 28 - March 23, 2003.
Jane's handmade paper site map titled "Mohawk-Hudson Joining" was included in the College of Saint Rose's annual faculty exhibition. This work made in 2002 is part of a series of site map works exploring the Albany-Troy, New York area where Jane moved in November of 2001. The work is constructed with plant fibers and other natural materials gathered along the banks of the Hudson and Mohawk Rivers.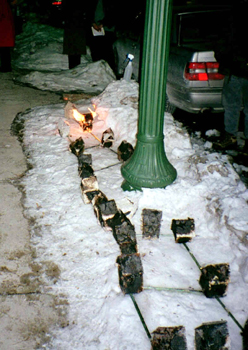 Fulton Street Gallery "Fire and Ice" Exhibition, Troy, NY, Feb. 12 - March 22, 2003. Opening Reception & Performance Fri., Feb. 14, 6-8 PM.

Jane presented a site specific installation of her "Burning Houses" as part of the Fulton Street Gallery's "Fire and Ice" exhibition. Click here to see some of Jane's previous installations using burning to transform paper and wire constructions. Jane's installation at the Fulton Street Gallery featured multiple house structures of wire and handmade paper treated with fire retardant and burned during a performance "burning" outside the gallery at the opening reception. The burned houses were brought into the gallery and remained for the duration of the exhibition. The burning performance at 7PM, Feb. 14 was accompanied by live music composed for the piece by Jane's son Chris Allen. Music for the performance and at the gallery reception was performed by Chris Allen on trombone and Eric Hofbauer on guitar. Both are Boston-based jazz musicians who perform regularly throughout the Northeast. For more information about Chris Allen see the website at www.centralarteryproject.com
For information about Eric Hofbauer see the website at http://cnmpro.com
Albany Center Galleries at Butzell Gallery, Schenectady High School, Schenectady, NY - Feb. 24 - April 15, 2003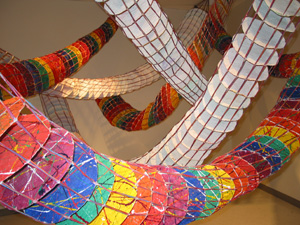 This solo exhibition at the high school of the art's gallery was in conjunction with Jane's 5-day artist-in-residency at the school in March-April, 2003. Jane exhibited 3 mixed-media installation works using handmade paper, string, wire, paint and other materials filling the gallery space with works that surround the viewers with a fanciful world of color, shape and space. The exhibition featured"Tubes," "Ganglia" and a site specific "Bird Watching in Schenectady" installation.

"Pieces of Six," Fulton Street Gallery, Troy, NY, Nov. 20 - Dec. 21, 2002
Opening Reception: Nov 22, 5 - 8 PM
For this exhibition 6 artists were invited to create works using handmade paper provided by The Jennifer Collection. Each artist was given the same sheets of paper to create a work or works using this material to be exhibited in the gallery. Jane's installation "Drip" consisted of multiple paper balls made from the recycled paper pulp.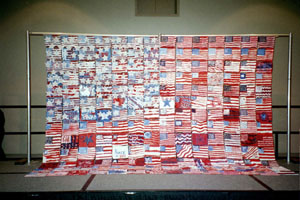 First Night Saratoga Project
Jane was commissioned to create a participatory public art installation for First Night Saratoga 2003. For the First Night celebration on Dec. 31, 2002, Jane led community participatants in making a 12' long American flag image composed of multiple small fabric flags painted and assembled during the New Year's Eve festivities. The completed work was exhibited in the Saratoga Springs Civic Center and will be on permanent display at the Saratoga YMCA.
"Bird Watching in Cohoes," Trink Gallery, Cohoes, NY, opens June 14 and continuing through November 1, 2002.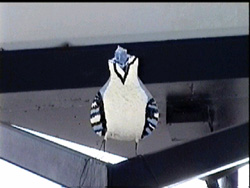 For the inaugural exhibition Trink Gallery featured a group show by twelve selected area artists working in a variety of media. In this exhibition Jane presented two public art installations focused on birds. Jane's site specific installations "Bird Watching in Cohoes" and "Birds on a Wire" are visible both inside and outside the gallery located in downtown Cohoes, a city just north of Albany, NY. Jane's installations were so well-received by the public that they will be left on exhibition indefinitely in Cohoes. The birds can now be seen outside the gallery and just inside the entry to the gallery. Trink Gallery occupies the spacious second floor of the building housing Trink 20th Century Furniture and Design, 122 Remsen Street, Cohoes. Unfortunately, this gallery and business is closed.
Color ...y Mas Color," Martinez Gallery, Troy, NY, June 8-August 11, 2002.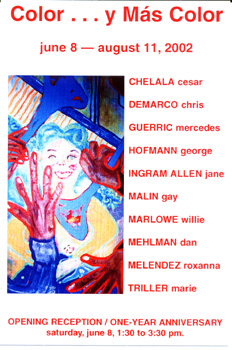 For this group exhibition focusing on color, Jane will be exhibiting some of her mixed media map-based pieces from the "Brazil Site Maps" series of works she made during her Jan.-Feb. 2002 residency at the Sacatar Foundation in Bahia, Brazil. The suspended map works are constructed with handmade paper that Jane made from plants gathered at the site along with string, leaves, petals and other materials collected in Brazil. The works are painted with natural dyes and pigments from plant materials found in Bahia as well as acrylic paints. The Martinez Gallery features changing exhibits of contemporary works by Latin American and New York artists and is located in Monument Square in downtown Troy; for more information, call the gallery at 518-274-9377.
"Habitats - Art in the Environment," collaborative outdoor installation, Schuylkill Center for Environmental Education, 8480 Hagy's Mill Road, Philadelphia, PA, June 10, 2001 until it decomposes.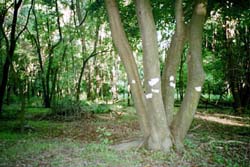 "Habitats" is an installation created in a collaborative art workshop taught by Jane as part of her residency at the Schuylkill Center. Participating artists collaborated under Jane's direction to create an environmental installation based on animal habitats using handmade paper and branches, vines and other natural materials. The installation is composed of unique elements created by each artist joined together in a collaborative piece. The works, some large enough for viewers to enter, are made with all bio-degradable materials that can contribute positively to the environment. They are designed to change over time with wind, weather and animal interventions and will eventually dissolve and decompose becoming compost. Workshop artists included Bobbie Adams, Sheila Benedis, Aileen Cramer, Karen Frazer, Bonnie Fuoco, Linda Louise Horn, Neila Kun, Tom McKeon, Barbara Spadaro and Peggy Wright. To view more photos of the "Habitats" installation as it changes over time, click here.
"Haven - Artists Talk About the Residency," an exhibition and panel discussion at the Arts Center of the Capital Region, Troy, NY, April 5 - May 24, 2002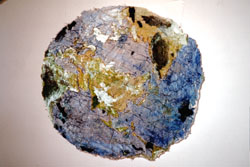 Jane will be showing some of the works she has made at international residencies in this group exhibition focused on the relationship between artist and residency. Jane has recently been an artist in residence at the Sacatar Foundation in Bahia, Brazil, as well as in Mino City, Japan, at the Paper Art Village Project and in Kathmandu, Nepal at the Nepal Crafts Collection. Jane will exhibit some of her map pieces that are suspended from the ceiling and are made with handmade paper and other materials gathered during her residencies.
Jane will also participate in the panel discussion about the residency experience being held in conjunction with this exhibition. The panel discussion takes place at the Arts Center of the Capital Region, 265 River Street, Troy, NY, phone 518-273-0522, on April 28. 1:30-3:00PM. Jane will make a presentation about international residencies, and other artists and administrators will talk about residency programs in New York State.
"Flags" in New York City - Lobby at 650 Madison Avenue (at 59th Street) and 100 Broadway (at Pine Street) - October - December 2001
NYC Art Consultant Suzanne Randolph of Suzanne Randolph Fine Art organized this s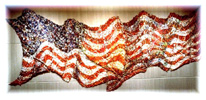 pecial exhibition in response to the tragic events of September 11. She invited selected artists to display works in Manhattan office buildings to help with the healing and enrich the lives of the office workers. Jane is showing three works from her American Flag Series, 1988-1998. The works are hanging constructions of painted handmade paper and string and celebrate the American spirit. The works will remain on public display for approximately six weeks.

Mino Lantern Festival, Mino City, Japan - October 20-21, 2001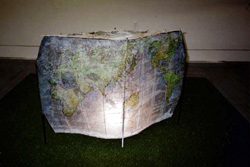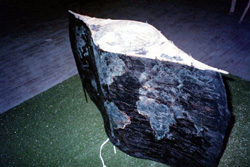 Jane made a lantern for the 2001 Lantern Festival in Mino City, Japan. When Jane was an artist in residence at the Mino Paper Art Village Project in Mino City, she made her first lantern and decided to make another one this year to send for the annual contest. In 2001 Jane created a lantern representing the globe with half of the world in daylight and the other half dark. One side of the piece represents the world with Japan in the center, and the other side has America in the center. Jane shipped the lantern to Japan, and it was assembled there by Jane's artist friend Sueaki Watanabe. The Mino Lantern Festival is held yearly in mid-October. Each evening of the Festival the streets of the city are illuminated with hundreds of creative lanterns entered in the contest by professional artists and school children. The Festival is one of the most important tourist attractions in this area of Japan.
March 2 - March 30, 2001: "Jane Ingram Allen: the New York Years - 1988-2001, Rome Art and Community Center, Rome, NY. Opening Reception - Fri., March 2, 5:30 - 7 PM. Installation/Performance with Central Artery Project: Saturday, March 3, 7PM in the Carriage House
For this retrospective exhibition covering the twelve plus years that Jane has lived in Central New York, Jane is exhibiting representative works showing the development and changes her work has undergone.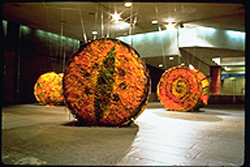 This photo shows "Hay Bales" made in 1993 which was inspired by the fields of Central New York. The exhibition at the Rome Art Center fills all of the galleries and also contains a few outdoor installations.
Jane received a grant from the Richard Florsheim Art Fund to fund the publication of a 16-page catalog for this retrospective exhibition. Past curators and directors at institutions where Jane has shown her work contributed statements for the catalog. The catalogl also features color and black and white photos of representative works and an artist statement, bio and list of works in the show.
Jane collaborated with her son Chris to create a new multi-media installation/performance piece which premiered on March 3 in the Carriage House at the Rome Art and Community Center. The new piece has a "space odyssey" theme and features multiple planets, space ships and space debris hanging from the ceiling. Chris composed some outer space theme music which was performed in the installation by his 4-piece Boston-based jazz band Central Artery Project. For more information about the band, click here.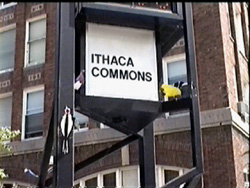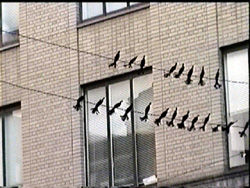 July 1, 2000 to April 1, 2001: BIRD WATCHING IN ITHACA and BIRDS ON A WIRE, Ithaca Commons, Ithaca, NY, as part of the "Art in the Heart of the City" outdoor sculpture exhibition.

Jane is exhibiting "Bird Wathing in Ithaca", an installation of 32 bird sculptures perched on the signs marking the entrance to the Commons, a pedestrian mall area in downtown Ithaca, NY. "Birds on a Wire," an installation of multiple bird forms on two cables suspended between light poles in the center of the Commons, is also included in this outdoor sculpture exhibiton sponsored by the Ithaca Do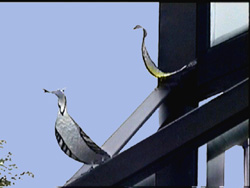 wntwon Partnership. The works will be on exhibit through April 1, 2001.

Updated October 12, 2003