Jane Ingram Allen
CONSTRUCTION PROJECTS
In 1999 Jane has been working on a series of installations using the construction site as inspiration. She is continuing to make site specific installations for various exhibitions which feature different aspects of construction. Some of the works involve the audience
"CONSTRUCTION ZONE" at Omni Gallery, Uniondale, NY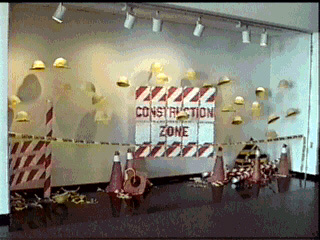 Jane installed "Construction Zone," inspired by sights of construction sites, on January 31, 1999. The installation was included in the invitational exhibition "Material Sensibility" curated by Dawn Lee. The exhibition contained works by five New York artists using cast handmade paper in various ways. The Omni Gallery, 333 Earl Ovington Blvd., is located across from the Nassau County Colisuem, on Long Island in Uniondale, NY.
Jane's installation filled one alcove in the gallery about 25 feet wide and five feet deep with 28 cast handmade paper hard hats and six cast handmade paper traffic cones along with handmade paper signs and construction debris. The installation was on view February 1 - April 1, and the opening reception was Thursday, February 18, 1999, 5 - 7PM.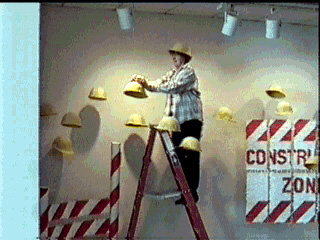 A review of the exhibition "Material Sensibility" containing Jane's "Construction Zone" piece appeared in the Sunday, February 28, 1999 edition of the NY TIMES, Long Island edition. Art critic Helen A. Harrison's review of the show features a photograph of Jane's piece and several comments about Jane's work. In the review Harrison says, "Ms. Allen offers a wry comment on the fragility of protective devices, as well as the way an artist can invest mass-produced commonplace objects with alternative implications."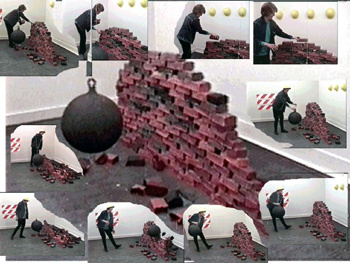 This photo collage shows the "Brick Wall" in progress in Jane's studio. Reading from the top, left to right in a circular pattern, you can see Jane building the wall and then deconstructing it with the wrecking ball hanging from the ceiling. Jane has created this new installation piece for exhibition at the Islip Art Museum's Carriage House, East Islip, NY, May 1 - July 3, 1999. The opening reception for the exhibition is June 13, 2-4:30 PM. Jane is one of six artists invited by curator Catherine Valenza to participate in the exhibition "Site Specifics '99." This annual exhibition of installation art includes site specific installations by each of the artists in rooms at the Carriage House, adjacent to the Islip Art Museum, 50 Irish Lane, East Ilsip, NY (Long Island). Jane's installaton will be in the entry room to the building which is about 18' x 29'. For more information about the exhibition call the Museum at 516-224-5402.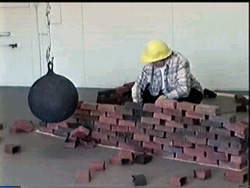 "Brick Wall" is a continuation of Jane's "Construction Projects" series inspired by sights and sounds of constructions sites. "Brick Wall" is a participatory installation piece consisting of multiple unique cast handmade paper bricks which viewers can use to construct a wall. Then, using the cast handmade paper wrecking ball suspended from the ceiling, viewers can deconstruct the wall.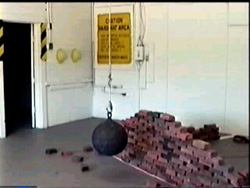 Cast handmade paper hard hats are hung on the wall for viewers to wear during construction and demolition. The outline of a foundation of a house is cast directly on the floor in the space. A painted handmade paper sign advises viewers to wear one of the hard hats provided and to become construction workers.
"Beyond Bricks and Mortar," September 11-October 27, 2000, OIA exhibition at the New York Mercantile Exchange, World Financial Center, 1 North End, New York, NY. Opening reception - September 14, 5-7PM.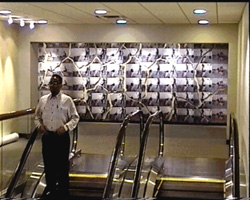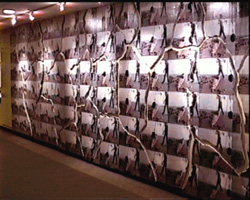 "Beyond Bricks and Mortar" was an exhibition of works by 5 artists dealing with the creation, perception and transformation of space referring to the basic human longing of having a home, whether imagined or real. The show was curated by Judit Villiger and includes Jane Ingram Allen, Michael Bernstein, Sam Cady, Rebecca Findahl, and Fumiko Nazawa. For this exhibition Jane showed a wall installation 24 feet long using digital photographs documenting her installation piece "Construction Zone - Brick Wall."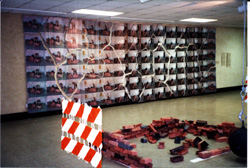 "Assembled Imagery," Barrett Art Gallery, Utica College, Utica, NY, November 6 - December 8, 2000.
For this invitational group exhibition with three other artists also using a process of assembling images to create their work, Jane exhibited works from her Construction Projects series. The participatory "Brick Wall" piece with hundreds of cast handmade paper bricks for viewers to build a wall and then tear it down with a paper wrecking ball provided, filled the center of the exhibition space. Cast handmade paper traffic cones and caution signs were suspended about, and paper hard hats were hung nearby for viewers to wear while constructing. On the wall behind this piece Jane installed "Brick Wall Documentation", a fragmented series of digital photos showing Jane building and destroying the wall with photos becoming progressively more and more pixelated as they move toward the top and bottom of the piece.
updated 12/26/00