Jane Ingram Allen
Other Taiwan Exhibitions
"Paper Possibilities - Contemporary Paper Works by Taiwanese and Chinese Artists," curated by Jane Ingram Allen, McQuade Library Gallery, Merrimack College, N. Andover, MA, October 1-30, 2004
"Paper Possibilities - Contemporary Paper Works by Taiwanese and Chinese Artists," curated by Jane Ingram Allen, Fulton Street Gallery, Troy, NY, May 25 - July 9, 2005.
Participating Artists
| | | |
| --- | --- | --- |
| Chang, Jun | Huang, Li-Rung | Wang, Kuo-Tsi |
| Chen, Shu-Yen | Lee, Hui-Fang | Wu, Chi-Fen |
| Chen, Long-Bin | Lui, Hsi-Chuan | Yang, Wei-Lin |
| Chou, Cheng-Liang | Ren, Rong | |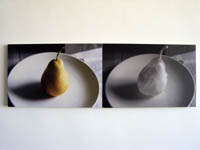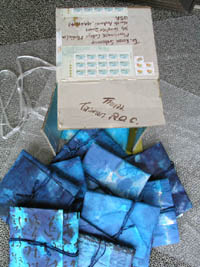 "Paper Possibilities" contains 1 - 3 works by each of these artists. The photograph on the left shows the work of Huang, LiRung of Taipei, Taiwan. It is a digital photograph with a paper sculpture and is titled "The Existence of a Pear." The work on the left is by artist Lee, Hui-Fang of Taichung County, Taiwan. It is an installation with handmade papers and a mailing carton. It is titled "Made in Taiwan - Taiwan in the Making." Curator Cathy McLaurin will be installing the works for this exhibition at Merrimack College Gallery while Jane is continuing her work in Taiwan.
Jane organized and curated this exhibition that will be shown at institutions in the USA during 2004-06. As part of the work Jane has done for her Fulbright grant in Taiwan, Jane has made contact with many contemporary artists in Taiwan and mainland China and looked at their works to exchange ideas and discuss processes. During her six months in Taiwan she has lived in Taipei and traveled to Tainan, Taichung and other parts of Taiwan as well as to Shanghai and Hong Kong.
This exhibition is an opportunity for Taiwanese and Chinese artists to show their works in the USA, and for people in the USA to see contemporary works by artists from a different culture. This exhibition features works using paper as a material and increases awareness of the possibilities for creating innovative art with paper materials. The artists Jane selected for the exhibition reflect concerns with contemporary issues as well as the use of paper material and represent a variety of media, techniques and approaches.. Works in the exhibition include such techniques as paper cutting, printmaking, sculpture, photography, installation art, papermaking and mixed media.
Contact Jane to schedule this exhibition or to get more information.
"Bird Watching at Guandu Nature Park," November 6, 2004 - January 31, 2005, Guandu Nature Park, Taipei County, Taiwan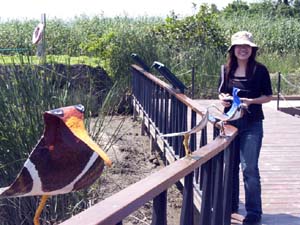 For this exhibition Jane volunteered to make a site-specific installation of 12 bird sculptures representing common birds found at Guandu Nature Park for the Park's new water plants area. Jane's bird sculptures are installed on a bridge leading to a new marshland nature area that will provide homes and temporary resting places for the many migratory birds that stop over in Guandu Nature Park. The installation will be on view at the Nature Park through January 2005. This photo shows Guandu Nature Park director Lingi Wu displaying some of the birds temporarily on a pedestrian bridge over some of the marsh lands at the Nature Park.
(updated on October 4, 2005 )
For more information on Jane, click on one of the icons below