Jane Ingram Allen
"Made In Taiwan" Project
"Taiwan - My Home" Exhibit
"Taiwan - My Home," National Day Celebration Exhibition, October 16-17, 2004, in front of the Presidential Office Building and October 18-25, at Hua Shan Arts District, Taipei, Taiwan.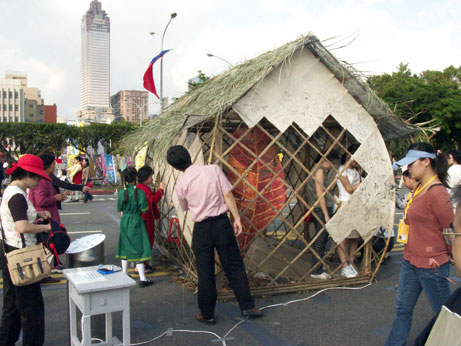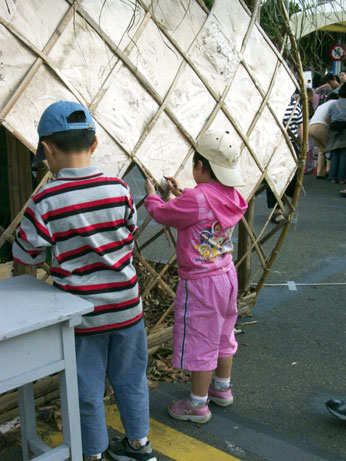 For this exhibition to celebrate the national holiday of Taiwan, Jane was one of 11 artists invited to make a large scale public art installation with the theme of "Taiwan-My Home." The exhibition was administered by the Rich Art and Culture Company and funded by the Council for Cultural Affairs. The artworks were made using a steel framework in a basic house shape about 6' x 10'. Jane created a "Made in Taiwan" house using bamboo, leaves and natural materials along with handmade paper. The bamboo framework of the house was made in collaboration with Taiwanese bamboo artist Wang, Dan Lu. The bamboo framework was covered with handmade paper made by public participants during the exhibition. Viewers were invited to write a message about "Taiwan-My Home" on the paper walls of the house. Some of Jane's "Taiwan Site Maps" were displayed inside the house.
Jane set up a papermaking workshop outside her house with the help of some Taiwanese artist friends. The papermaking workshops were from 1-4 pm on Oct. 16 and 17 at the Presidential Office Building exhibition site and on Oct. 23 and 24,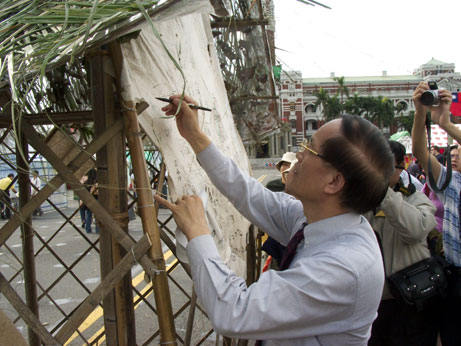 1-4 pm at the Hua Shan exhibition site. Jane invited visitors to make a sheet of paper from plant materials of Taiwan to contribute to the "building" of the house. Jane's "Made in Taiwan House" continued to change over the course of the exhibition with participation by the public and by the actions of nature such as wind and rain. Jane was pleased to have Dr. Chen, Chairperson of the Council for Cultural Affairs, visit the exhibition on Oct. 16 and write "New Formosa" on the handmade paper. Follow this link for the CCA's website in Chinese for the" Made in Taiwan" project, "Made In Taiwan" Project.
(updated on July 5, 2005 )
For more information on Jane, click on one of the icons below