Jane Ingram Allen
Artist-in-Residency Projects
Rome Art and Community Center, Rome, NY - July 13 - August 7, 2009
Jane was the first artist-in-residence in this central New York State art center residing in their newly renovated artist's apartment for the month of July with an exhibition of Jane's work installed in the gallery and on view outdoors in the gallery from August 7 - 31, 2009.
During her residency in Rome, Jane created a site-specific outdoor sculpture installation "Earth Nest" using natural materials and handmade paper from local plants, involving local students and public participation. Jane also offered lectures and other public educational programs about her art and life as an internatinal artist. Jane's residency in Rome, New York, was sponsored by a grant from Target's foundation. For more information about the Rome residency visit the website at www.romeart.org
Bali Purnati Center for the Arts, Bali, Indonesia - Jan. 22 - Feb. 6, 2009
Jane was an artist in residence at Bali Purnati Center for the Arts, a beautiful art center near Ubud in the village of Sukewati, on the island of Bali in Indonesia, for two weeks during the Chinese New Year Holiday in Taiwan. This residency was like a vacation in paradise, but Jane also had a chance to explore plants of Bali for papermaking and created a Bali Site Map using local materials. One of the most interesting papermaking plants from Bali that Jane used is the Sego Palm that produces lots of black fiber on its trunk. The black palm fiber is used in Bali for the thatched roofs on temples and also for making a very strong rope to lash together bundles of grass for regular thatched roofs (not the temples). The dark brown, almost black, handmade paper produced from the palm fiber is very beautiful and unusual and the color seems lasting. Jane's Bali Site Map was exhibited in Bali and was exhibited in the USA and Taiwan later in 2008. During the residency Jane also taught a papermaking workshop for a group of students from the Bali Orphan's Center in Ubud. Jane donated all of her papermaking equipment to the orphanage so that the students can continue making handmade paper art.
For more information about the Bali Purnati Center for the Arts, visit the website at www.balipurnati.com
Mass Audubon Society Visual Arts Center, Canton, MA (Boston area) - July 7 - 31, 2008
Jane was again the summer artist in residence at the Mass Audubon Society Visual Arts Center. Jane created a new installation focused on butterflies and the concept of transformation. She also collaborated with performance artist Sharon Wyrrick to create a performance/installation artwork focused on butterflies using local plant materials and sites at the Mass Audubon Society wildlife center in Canton. While working as artist in residence at the Center Jane also taught some classes for the children's summer camp on papermaking with plants and presented an Artist's Talk and an exhibition of her work in progress at the end of the residency kamagra oral jelly 100mg. For more information about Jane's activities and about the Mass Audubon Visual Arts Center, visit the website at http://www.massaudubon.org/Nature_Connection/Sanctuaries/Visual_Arts/index.php
Artist's House, St. Mary's College, St. Mary's, MD - October 6 - 31, 2008
During the month of October Jane was an artist in residence at St. Mary's College Artist's House along with performance artist Sharon Wyrrick. The two artists worked together on a collaborative project about butterflies and transformation. They also worked with art and environmental studies students as well as theater students at the college and made a presentation at the end of the residency about their new collaborative work. Click here for more informationhttp://www.smcm.edu/art/artisthouse/0809visartists.html
Qiyan Community, Taipei, Taiwan - March 3-15, 2008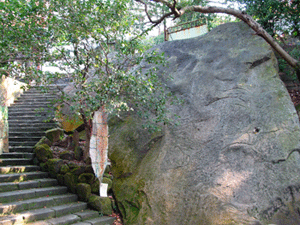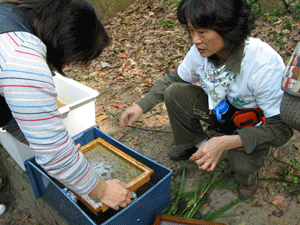 Jane was invited to be an artist in residence at Qiyan Community in the Beitou area of Taipei and worked with many community volunteers to make handmade paper from local plants and create a Qiyan Site Map featuring natural and cultural highlights of the community. During the two-week residence Jane and the community volunteers worked at Qing Jiang Elementary School in Qiyan, and with the help of the volunteers and excellent cooperation from the principal and the teachers, all of the students in the school had an opportunity to participate in papermaking activities and meet the artist. Jane exhibited her work at the school and also in the White House Community Center. The name "Qiyan" means "amazing rock," and so Jane and the volunteers made paper and put it to dry on some of the huge rocks at a local park to capture the impression of the sedimentary rocks that give the community its name. The volunteers collected and prepared paper pulp to make unique handmade paper from 22 different plants, and that must be a record for number of plants used in two weeks!
Warm Heart Arts Tanzania, Arusha, Tanzana, Africa - January 24 - February 21, 2008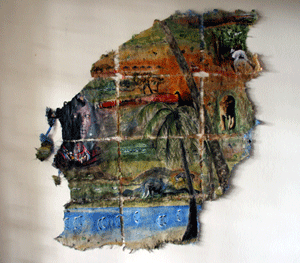 Jane was invited to be an artist in residence at Warm Heart Arts Tanzania (WHAT) http://www.warmheartart.com/what/what.html in Arusha , and her residency was supported by a grant from the Lighton International Artists Exchange Program, Kansas City Artists Coalition http://www.kansascityartistscoalition.org/index.html. During this residency Jane worked with artist/ papermaker and studio owner Seppo Hallavainio and other Tanzanian artists to make handmade paper from local plants and develop new work inspired by this place. She created a Tanzania Site Map and a piece based on the Tanzania flag using her handmade paper created from local plants. During this residency Jane also made a sample book of paper from 12 different local plants.
Click here for a daily log and photos of Jane's activities in Tanzania.
Kuandu Museum of Fine Arts, Taipei National University of the Arts, Taipei, Taiwan - Nov. 25 - Dec. 16, 2007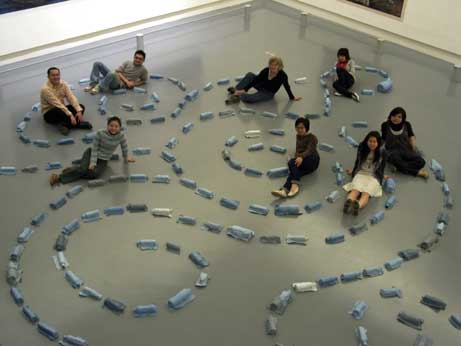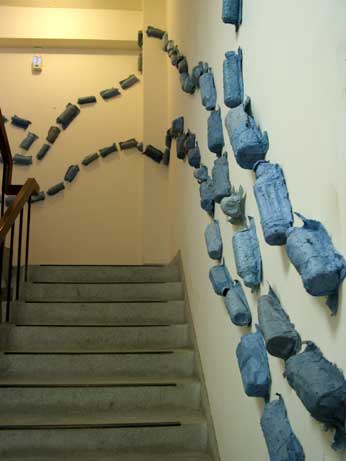 Jane was selected to be an artist-in-residence at the art museum at this Taipei art univeristy for three weeks to do a project with the art students focused on an environmental issue. Jane worked on a new series of handmade paper artworks about the importance of water. She created an installation called "Still Water" that involved the students in creating about 200 handmade paper castings of various plastic water bottles. The installation focused attention on the importance of clean drinking water and also the pollution caused by so much plastic. The handmade paper is made from plant materials and colored with non-toxic dye and contains seeds for wildflowers. After the gallery exhibition of this work in Taipei and in New York City, Jane plans to let it recycle into the earth. Since everything is biodegradable the installation will be "planted" at a selected site to dissolve into compost and sprout growing blooming flowers.
During the residency at the art university Jane also had "Open Studio" times for the public to have an opportunity to make some handmade paper. Jane also offered public lectures and workshops in papermaking during her stay at the university.
Massachusetts Audubon Society, Visual Arts Center, Canton, MA - June 11 - July 1, 2007
Jane was selected to be the first artist in residence at the Visual Arts Center of the Massachusetts Audubon Society. The Center is located at the Morse Wildlife Sanctuary in Canton, MA, about 30 minutes south of Boston. During the residency Jane created a large environmental sculpture installation "Making My Nest" thatl focused on the concept of nesting and the relationship of bird nests to human dwellings and shelters and emphasized the need to protect habitat for birds. The installation was made on the grounds of the wildlife sanctuary using twigs, fallen branches, dried grasses, vines and other natural materials. The nest was lined with hundreds of handmade paper feathers created with pulp made from local plants and containing seeds to feed the birds and grow new plants as the paper dissolved into compost releasing the seeds. Jane involved visitors and community groups in the project by holding open studio times, giving lectures and public demonstrations and teaching workshops. Visitors wereinvited to contribute to the installation by making more handmade paper feathers to line the nest and writing wishes for the environment on them.. Jane received a grant from the Puffin Foundation to support her "Making My Nest" project at the Massachusetts Audubon Society.
Jane will be an artist in residence again in July 2008 at the Mass Audubon Visual Arts Center. For more information about the Mass. Audubon Society Visual Arts Center click here.
2006 Scholar in Residence/Artist in Residence Project at Laurel School, Shaker Heights, Ohio - Sept. 25- Oct. 6, 2006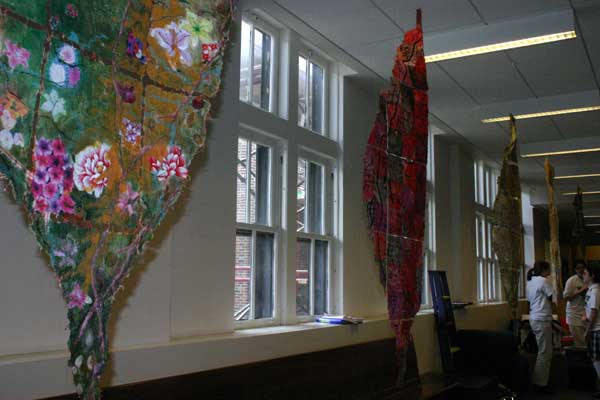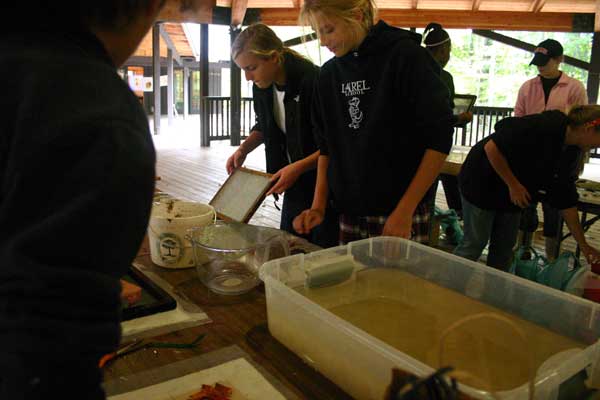 Jane was selected to be the 2nd Scholar in Residence at Laurel School in Shaker Heights, Ohio. The Scholar in Residence program has been funded for three years with a grant from the E.E. Ford Foundation matched by funds donated by alumnae and grants from local foundations. The goal of the program is to provide creative approaches to using the school's140 acre Fairmount Campus as a learning laboratory in many different disciplines, and for 2006 the discipline is art. Jane worked with faculty at the school to develop curriculum in the arts related to nature and the environment and planned the two week on campus residency, set for Sept. 25 - Oct. 6, 2006. The residency took place at the school's Fairmount campus, a 140- acre nature area with lodges, sports facilities and educational facilities Laurel School is an independent girl's school with approximately 620 students from grades pre-K to grade 12. Jane worked with all the high school students in half-day workshops to teach them papermaking art and created a collaborative site specific installation. Jane also taught a workshop for Ohio teachers on papermaking art using local plants and how to integrate environmental studies with their art curriculum. Jane also had an exhibition of her work in the school during the residency. For more information about Laurel School,click here
Artist in Residency Project at Taichung Culture Bureau, Taichung, Taiwan, January 2006
During this one-month residency Jane worked in the Culture Bureau lobby to make paper from local plants and create her artwork while interacting with visitors and local residents. People brought in things for the "site map" of Taichung that Jane was creating and told her about the community and its unique features to put into the map.Jane conducted public participation papermaking art activities and created a Taichung Site Map for the city. The project was sponsored by the Cultural Affairs Bureau and corporate sponsors. The presentation of the Taichung Site Map was on Saturday, January 21 at 2:30 PM. The Taichung Site Map was displayed in the Culture Bureau gallery along with Jane's other "Made in Taiwan" works until the end of the exhibition on February 2 and then installed at Taichung City Hall.
Artist-Residency Project and Exhibition, National Museum of Natural Science and Botanical Garden, Taichung, Taiwan, February 17 - April 30, 2006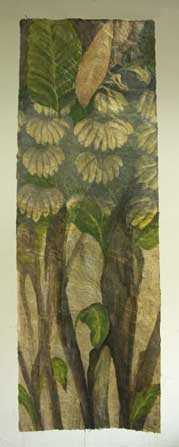 During her artist-in-residency project at the Taiwan National Botanical Garden Jane created a series of new site specific artworks inspired by botanical illustrations and traditional Chinese scrolls. Jane used 25 different plants found in the botanical garden to make handmade paper for her works. The residency project included public workshops and classes in papermaking art and open studio hours for the public to visit the artist at work. Public lectures and educational tours were also offered. During the residency Jane worked with the scientists at the botanical garden to identify potential papermaking plants and experiment with them to make unique handmade paper for a new series of artworks. The new works are mixed media suspended painting of the plants on handmade paper created from those plants, and each of the 12 works represents a different area of the Botanical Garden. The works were exhibited at the Botanical Garden Gallery through April 30, 2006.
During this residency Jane had an opportunity to make big sheets of paper using a special mould constructed by the Museum's staff. For this series of works, Jane also was able to use digital printing on her large handmade paper with digital photos of the plant printed on paper made from that plant. These works will be exhibited in other places in Taiwan and the USA. At the end of the residency, Jane presented one work for the collection of the Botanical Garden and a handmade book with samples of all the handmade paper from the different plants that she had used.
Artist in Residency Project in Sumter, SC
Accessibility 2003: From the Outside In," Sumter, South Carolina, Sept. 27 - Nov. 1. 2003. Jane's "Making My Bed" installation is still on view and continues to change over time.
Jane was the guest curator and artist-in-residence for Sumter, South Carolina's 5th annual exhibition of site-specific installation art held in downtown Sumter at indoor and outdoor sites. Jane worked s an artist in residence in Sumter for three weeks and involved high school and elementary art students as collaborators in an art project called "Making My Bed." Students designed the squares for the big installation in a city park and also each made individual small beds that were displayed in a storefront window installation in downtown Sumter.
Jane also curated the exhibition, selecting the other 9 artists who are participating in the exhibition--two are from Japan, one from South Korea, one from Canada and one from Israel with the others from CA, NM, KY, and New York. The artists worked in Sumter for several weeks prior to the opening of the exhibition on Sept. 27. Each artist had a local partner in Sumter who acted as host and guide and helped the artists to create their public art installations along Main Street in Sumter. For more information visit the website at www.sumteraccessibility.org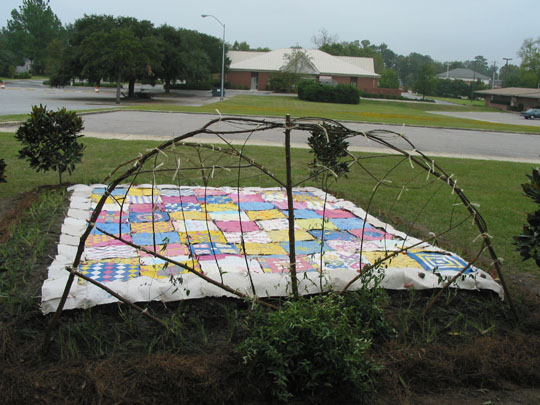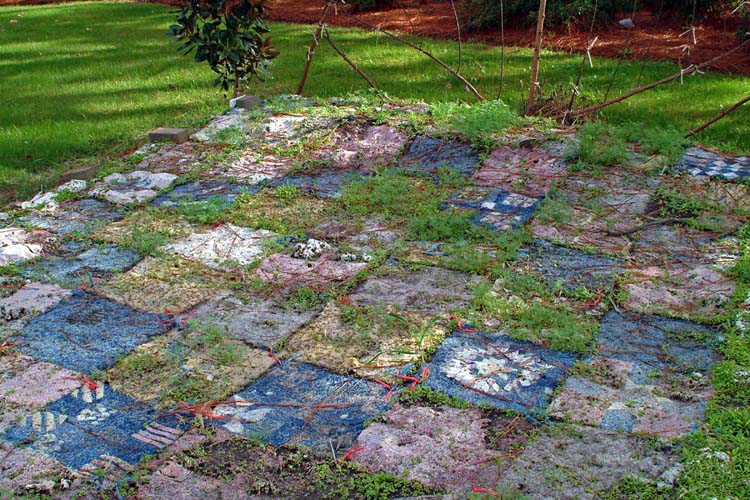 Jane's installation project for Accessibility 2003 "Making My Bed" was created during a three-week artist in residency in Sumter. The site-specific installation is a large-scale outdoor installation in the form of a living growing bed of wildflowers and crocus bulbs. The bed frame is made from willow branches, and four magnolia trees are the bedposts. A yellow jasmine vine (South Carolina's state flower) has been planted to grow up and over the headboard. The shaped earth bed was covered with a handmade paper quilt created from pulp containing wildflower seeds to produce flowers in the same pattern. The photo on the left shows the bed when it was installed on Sept. 27. The photo on the right shows the bed five weeks later when the paper is dissolving as mulch and the wildflower seedlings are starting to grow. Third grade students from Ms. Jones's art classes at Wilder Elementary and Sumter High School art students of Ms. Adler worked with Jane to create this installation. Students also made their own individual twig and handmade paper beds that were installed in downtown storefront windows for the exhibition, After the exhibition closes, students got their own beds back to plant next Spring in their own yards.
Here are some photos of "Making My Bed" in April 2004 showing the flowers in bloom. The wildflowers seem to be well-established and will keep coming back each year. The magnolia tree bedposts are also growing well along with the flowering vines at the twig headboard. .
An article about Jane's"Making My Bed" project in Sumter and her work with art students in the local high school and an elementary school is in the April 2004 issue of SCHOOL ARTS magazine.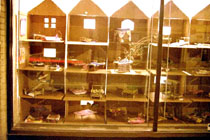 To follow the changes over time in Jane's large-scale "bed" located near the Sumter County Office Building and the County Library, click here. The documentation of this installation is provided by photographer Mary Tuggle of Sumter (www.tripodstudio.com). Mary will be sending in photos taken periodically to show how the paper dissolves into mulch, the seeds and bulbs sprout, and hopefully bloom in the quilt pattern in Spring 2004 and subsequent growing seasons. The bed will remain as a permanent public art work for the community.
Artist in Residency Project, Delaware Center for Contemporary Arts, Wilmington, DE - July -August 2003
Mid-Atlantic Arts Foundation, "Artists& Communities Grant Award 2003-04
Jane received an "Artists and Communities" grant from the Mid Atlantic Arts Foundation to support an 8-week artist-in-residency at the Delaware Center for Contemporary Arts, Wilmington, DE. During the July-August 2003 residency Jane created new works and developed a site-specific environmental installation called "Global Warming" with youth and community participants at the Arden Community Recreation Association. Jane worked with students ages 3 - 13 leading the young people in making a 12-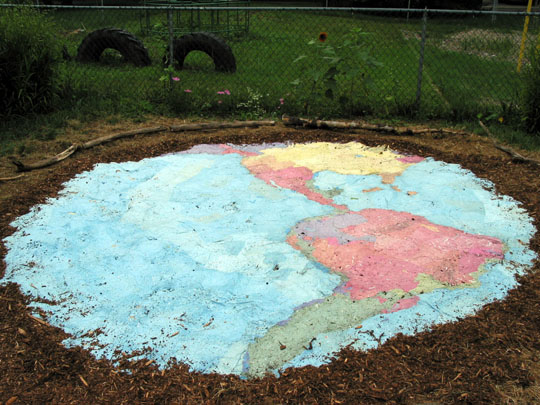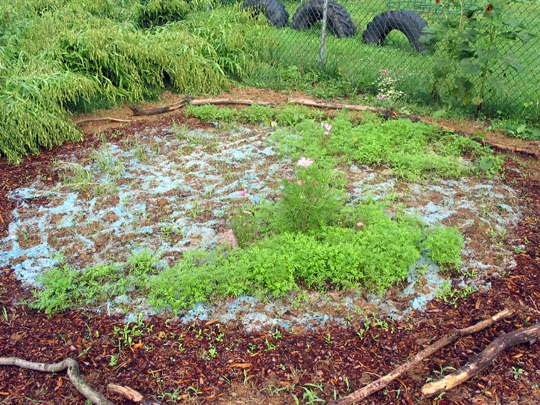 foot diameter handmade paper image of the world (Western hemisphere) emphasizing the impact of global warming. The handmade paper colored with biodegradable dyes contained wildflower seeds to sprout, grow and bloom over time to produce a living, blooming image of the earth in the same colors. These photos show the "world" in Arden as it changed over the summer months.

Artist in Residency Project in Brazil, Dec. 29, 2001 - Feb. 3, 2002 - Sacatar Foundation, Bahia, Brazil.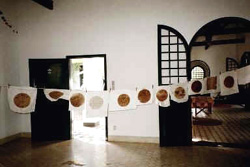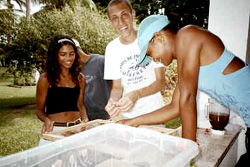 Jane was awarded a fellowship by the Sacatar Foundation for a residency at Quinta Pitanga, on the Island of Itaparica in Bahia, Brazil. The Island is located in the bay just off shore from the city of Salvador. The Sacatar Foundation selects international artists and writers for the residency fellowships in Brazil. Artists are chosen for the fellowships by a panel of arts professionals after reviewing slides and a proposal.
During the residency in Brazil Jane worked with native plants to explore new papermaking fibers and techniques and created a series of Brazil site maps and an outdoor installation based
on Brazilian birds. Jane worked with youth from Itaparica to teach them papermaking and created a collaborative installation with the youth which was exhibited in the town library. The youth also used their handmade paper to create their own art works. An exhibition of the young artists' work and work made by Jane during her residency was held at Quinta Pitanga.
After the residency ended on Feb. 4 Jane traveled to Sao Paulo and to Rio de Janeiro to see Carnival. During her stay in these cities she visited museums, galleries and artist's studios to see contemporary sculpture. For more information on the Sacatar Foundation, click here.



Artist in Residency Project, April, May-June and October 2001, Schuylkill Center for Environmental Education, Philadelphia, PA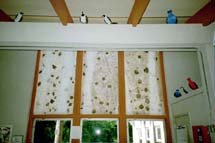 Jane was awarded a grant from the Mid Atlantic Arts Foundation Artist as Catalyst 2001 program, for a three month residency at the Schuylkill Center in Philadelphia. Artist as Catalyst, a program of Mid Atlantic Arts Foundation, is made possible by major funding from The Vira I. Heinz Endowment, The William Penn Foundation and the Pennsylvania Council on the Arts. The Schuylkill Center is a non-profit nature preserve and education center along the Schuylkill River in Philadelphia. Jane was in residence at the Schuylkill Center April 15-30, May 15-Juune 30, and for the month of October 2001. All of the work Jane made during her residency emphasized environmental issues and art that can contribute positively to the environment.
At the end of the residency Jane had an exhibition in the Schuylkill Center's gallery. The exhibition "Site Maps" was from November 29, 2001 to March 1, 2002. At the opening reception on November 29, Jane gave a gallery talk about the works and her experiments with native plants to make paper for her work.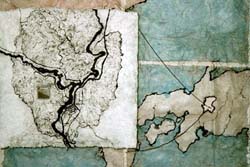 Jane's one-person show in the gallery at the Schuylkill Center for Environmental Education, 8480 Hagy's Mill Road, Philadelphia, featured an installation of map works made during her 2001 artist-in-residency at the Center. The "Site Maps" installation surrounded the viewer with mixed media map images of handmade paper created from plants found at the Center. The installation also included some on-site wall drawings. One side of the gallery featured maps of the USA, Philadelphia and the Schuylkill Center, and the other side, maps of Asia, Japan and Mino City where Jane was an artist in residence in 1999. The maps have soil samples Jane collected from the sites. Jane also made an artist's book with samples of the paper she made from all of the plants gathered while in residence at the Schuylkill Center.
During April when Jane was in residence at the Schuylikill Center for Environmental Education, she worked on an Earth Day art project.
This photo shows the installation "Earth Quilt - Earth Garden" that Jane created with some Philadelphia area school students for Earth Day, April 22, 2001. Students in Ms. Forston's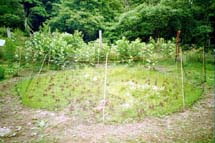 4th grade class at Heston School as well as students from Lankenau Motivation and Presbyterian Children's Village worked with Jane to make the handmade recycled paper for the quilt and paint an image of the earth with food coloring on the assembled paper quilt. On Earth Day the students planted seeds in the appropriate colors so that by mid-summer, there will be a blooming image of the earth. The Earth Quilt is made with all bio-degradable materials and will shelter and nourish the growing seeds as it decomposes as mulch. For more information click on the Jane's Schuylkill web page.
"Habitats - Art in the Environment," collaborative outdoor installation, Schuylkill Center for Environmental Education, 8480 Hagy's Mill Road, Philadelphia, PA, June 10, 2001 until it decomposes.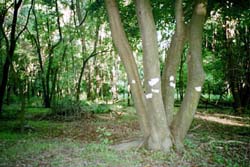 "Habitats" is an installation created in a collaborative art workshop taught by Jane as part of her residency at the Schuylkill Center. Participating artists collaborated under Jane's direction to create an environmental installation based on animal habitats using handmade paper and branches, vines and other natural materials. The installation is composed of unique elements created by each artist joined together in a collaborative piece. The works, some large enough for viewers to enter, are made with all bio-degradable materials that can contribute positively to the environment. They are designed to change over time with wind, weather and animal interventions and will eventually dissolve and decompose becoming compost. Workshop artists included Bobbie Adams, Sheila Benedis, Aileen Cramer, Karen Frazer, Bonnie Fuoco, Linda Louise Horn, Neila Kun, Tom McKeon, Barbara Spadaro and Peggy Wright. To view more photos of the "Habitats" installation as it changes over time, click here.
Artist in Residency Project in Nepal, Jan. 2 - 20, 2001, Nepal Crafts Collection, Kathmandu, Nepal.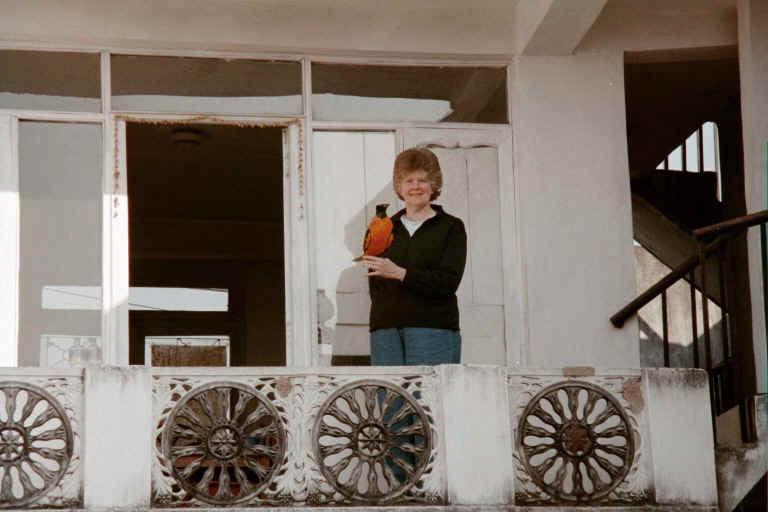 During this two week residency Jane created work with Nepalese handmade paper and exchanged technical information and ideas with hand papermakers in Kathmandu. Jane learned traditional Nepalese methods for making paper with lotka fiber and used the handmade paper to produce several pieces. She made "Bird Watching in Nepal", a public art installation at the Astoria Hotel in Kathmandu with multiple sculptures representing birds native to the area. She also worked on several map-related pieces and ideas for using the Nepalese paper produced by hand at the small factory in Kathmandu. Nepal Crafts Collection produces many craft items of handmade paper for marketing in Europe and elsewhere and employs about 18 Nepalese workers. The factory was started in 1995 by Belgian native Marie Jeanne Bude, now living in Kathmandu, to promote Nepalese papermaking and as a way of helping the people of Nepal find ways of supporting themselves.
Artist in Residency Project in Japan, September 8 - December 8, 1999, Paper Art Village Project, Mino City, Japan.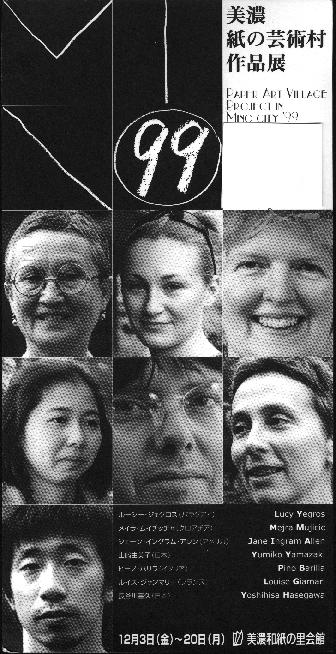 Jane was chosen as one of six international artists to participate in this fully-funded three month residency in Japan. The residency program brings international artists to Mino City from all over the world to make art with Mino's renowned kozo fiber handmade paper. While in Japan Jane and the other artists lived with a Mino City host family, made art with handmade Japanese paper in the studios provided, and had an exhibition at the Mino Washi Museum at the end of the residency period. In Japan Jane made an installation work "Turning Over a New Leaf" consisting of over 2000 handmade paper leaves, an installation titled "Different Views" depicting map drawings of the world from different vantage points and a public art installation of 28 handmade paper birds on the Mino Bridge. For more information about Jane's residency at the Paper Art Village Project click here. To view the Mino Paper Art Village Project website visit http://www9.ocn.ne.jp/~mino-bnk/
Artist in Residency Project, Harpers Ferry National Historical Park, Harpers Ferry, West Virginia, August 28 - September 28, 1998.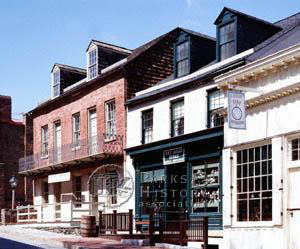 Jane was chosen as one of eight artists for a residency in the 1998 season at this scenic and historic national park located at the juncture of the Potomac and Shenandoah rivers where the states of West Virginia, Maryland and Virginia come together. During the residency, artists are given housing in a historic building, studio space and a stipend to cover supplies and travel. During her September residency Jane worked on sculpture/installation pieces inspired by the countryside and the historic nature of the park.
At Harpers Ferry Jane made a series of map pieces for her October 1998 exhibition "The Map Room" at the University of Bridgeport gallery, Bridgeport, CT. During the residency Jane also made several new bird sculptures representing local species.
As the artist-in-residence Jane also had open studio hours for people visiting the park and conducted three public programs about papermaking and installation art. An exhibition of the work made during the residency and a public reception was held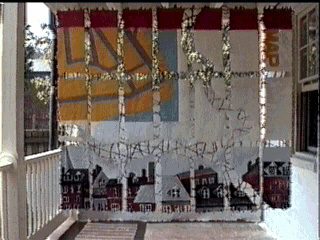 at the end of the residency. One work made during the residency "Harpers Ferry Map" will become part of the national park's permanent collection.
Artist in Residency School Project ,"Bird Watching", New York Mills Union Free School, New York Mills, NY. May 26 - June 1, 1998
Jane was an artist in residence at the New York Mills school located near Utica, New York.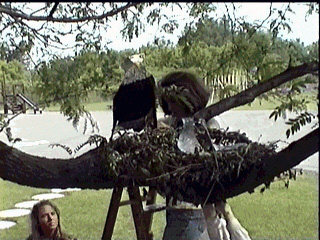 Jane worked with students in elementary through high school grades to create a "Bird Watching" installation in the school's new garden and outdoor classroom area, which has been designed by the school's art teacher, Amy Deller. Jane's residency was sponsored by the school's Art, Music and Drama Boosters Club which is also supporting the garden project. Jane led the students in designing and making 10 bird sculptures including an eagle and nest with two baby birds. Students also made many colorful butterflies and some bugs which hang from the trees in the garden space. The sculptures were made using handmade paper which the students made, painted and coated with polyurethane to help make them weather resistant. For more information about Jane's other bird watching projects jump to that page.
Artist in Residency Project, Connemara Conservancy, Dallas, Texas: Feb. 28 - March 8, 1998
Jane's work and the sculptures of the other nine artists selected for the 1998 season were on exhibition at the Conservancy, a 72-acre nature preserve outside Dallas, through May 12, 1998. Jane's Connemara Conservancy work was called "Leave Taking."


Artist's Statement "Leave Taking"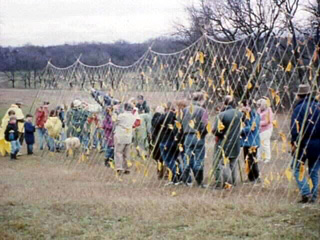 In Alabama where I grew up, "Leave taking" is a polite expression for death, but in this Connemara piece, death is seen as part of the natural cycle of life - birth, growth, death, decay and rebirth. Leaves are a beautiful visual example of this cycle of life as they go out in a burst of glory and always reappear in the spring.
"Leave Taking" was an interactive sculpture/installation work consisting of thousands of colorful handmade paper leaves, some with text written on them, attached by clothes pins to a structure made with rope, twine and bamboo poles ascending a hill at Connemara. The structure forms a curved line made somewhat like the staking of pole beans by vegetable farmers. As you journey through this structure, the leaves change color, starting with fresh green, then yellow, orange, red and brown.
Viewers were invited to take a leaf. People were also invited to write a leaf of their own using the blank leaves and leave it for someone else to take. Ballpoint pens were attached to the structure at various points. Connemara volunteers put out new blank leaves during the course of the exhibition.
Some of the handmade paper leaves for the project have been made by students in Barbara House's art classes at Hamilton Central School, Hamilton, NY,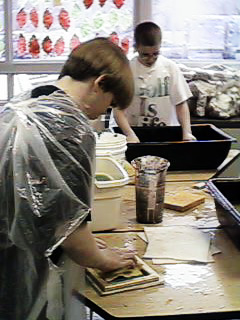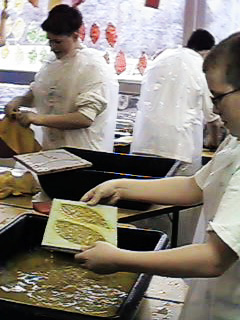 The students also wrote text on some of the leaves. Additional text for some of the leaves was contributed by creative writing students of Eileen Moeller at Syracuse University, Syracuse, NY, and Kirkland Art Center, Clinton, NY.
For more information on Connemara and the other artist in residency for 1998 jump to the Connemara page.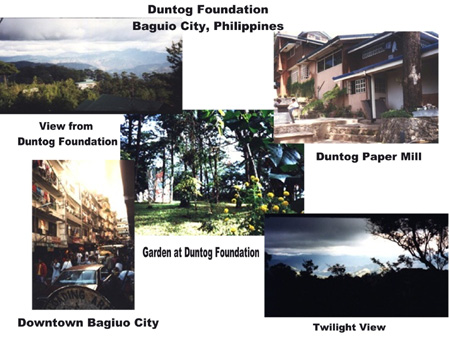 Jane received a grant from Michael Parsons, founder of the Duntog Foundation, for a one-month residency at this center for hand papermaking in the Philippines. Jane was the first sculptor working with handmade paper to come to the Duntog Foundation. While at the Duntog, Jane made and installed two large-scale "temporary shelter" pieces which were constructed of handmade paper, string and bamboo. The two works "Spiral Shelter" and "Silo Shelter" were structures that the viewer could enter and were designed to change over time disappearing as compost since they were made of bio-degradable materials. The works were installed in the garden at the Duntog Foundation, located on the highest point above the city of Baguio. Baguio City is a bustling metropolis and summer capitol of the Philippines, located in the mountains on the island of Luzon about five hours north of Manila.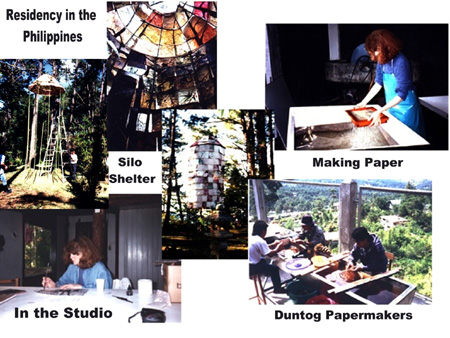 During her stay at the Duntog, Jane learned about many new fibers and participated in all phases of papermaking from gathering fibers grown at the Duntog farm to cooking, washing, beating and casting handmade paper. She also learned about paper marbling from Michael Parsons and the art of spinning paper thread with the handmade paper. Jane's husband Tim came with her to the Philippines and acted as her technical assistant and photographer to document the residency. After the residency Jane wrote two articles about her experience in the Philippines, one for SCULPTURE magazine and one for HAND PAPERMAKING magazine.
Artist in Residency Project, Contemporary Artists Center, North Adams, MA: July 1993
Jane spent three weeks at the Contemporary Artists Center working in the painting studio, a large floor of a former mill building, to complete a multi-part sculpture/installation work called "Hay Bales." This work was exhibited in her October-November 1993 one person show in New York City at the City University Graduate Center. The Contemporary Artists Center was a great place to work on this large painted sculpture piece since she could spread out in the large studio spaces available there. During her stay at North Adams, Jane enjoyed getting to know the other artists and being able to devote concentrated time to her art work.
Writing by Jane about her Residencies and about Residencies for Artists
Jane has published two articles about her January 1996 residency: "A Residency in the Philippines," SCULPTURE, July/August 1996
"Papermaking at the Duntog: Report from the Philippines," HAND PAPERMAKING, Summer 1996.
Article about residencies for sculptors
Jane has published an article about residency opportunities for sculptors: "Inspiration and Renewal: Sculpture Residencies," .SCULPTURE, February 1998
Monograph about residencies for artists
Jane has written a monograph about residency opportunities for artists in the U.S. and internationally. RESIDENCIES FOR ARTISTS will be published by ART CALENDAR in summer 1998. This monograph can be ordered by contacting Art Calendar, P.O. Box 199, Upper Fairmount, MD 21867-0199.
For more information about my published writings, jump to the Writing page
Page updated April 5, 2007
This page was last updated on June 15, 2002.