1998 Artists at Connemara
Jane Ingram Allen's Connemara Conservancy Project is called "Leave Taking."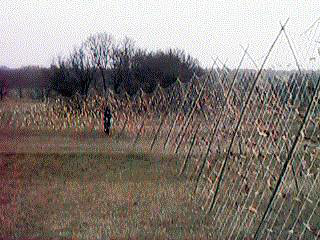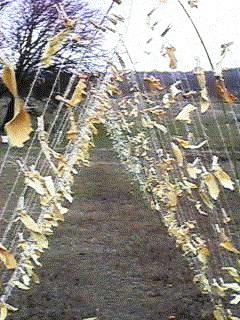 Artist's Statement "Leave Taking"
In Alabama where I grew up, "Leave taking" is a polite expression for death, but in this Connemara piece, death is seen as part of the natural cycle of life - birth, growth, death, decay and rebirth. Leaves are a beautiful visual example of this cycle of life as they go out in a burst of glory and always reappear in the spring.
"Leave Taking" is an interactive sculpture/installation work consisting of thousands of colorful handmade paper leaves, some with text written on them, attached by clothes pins to a structure made with rope, twine and bamboo poles ascending a hill at Connemara. The structure forms a curved line made somewhat like the staking of pole beans by vegetable farmers. As you journey through this structure, the leaves change color, starting with fresh green, then yellow, orange, red and brown.
Viewers are invited to take a leaf. People are also invited to write a leaf of their own using the blank leaves and leave it for someone else to take. Ballpoint pens are attached to the structure at various points. Connemara volunteers will put out new blank leaves during the course of the exhibition.
About the Artist
Jane Ingram Allen is from Hamilton, New York. She is native of Alabama and has lived in Hamilton since 1988. A sculpture installed in a New York subway station in 1994 is still on exhibit, sparking

generic levitra. She received a Ruth Chenven Foundation Grant to create a public art project in Utica, New York in 1997:.

Ms. Allen is currently interested in making outdoor works of biodrgradable materials that are temporary and interact with Nature and the viewers and then disappear into compost. Her work examines the beauty in all stages of the natural cycle of life.

This sculpture/installation work consists of thousands of colorful handmade paper leaves with text written on them attached to a structure made with rope and bamboo stretching for about 200 feet down a grassy hill at Connemara.

Some of the handmade paper leaves for the project have been made by students in Barbara House's art classes at Hamilton Central School, Hamilton, NY,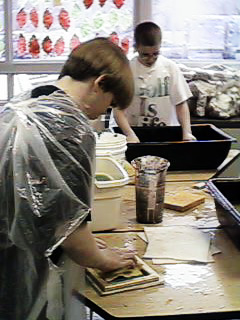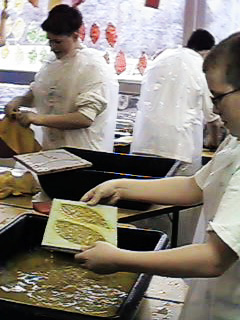 The students also wrote text on some of the leaves. Additional text for some of the leaves was contributed by creative writing students of Eileen Moeller at Syracuse University, Syracuse, NY, and Kirkland Art Center, Clinton, NY.

"Leave Taking" is an interactive continuously changing work of art which follows the natural cycle of life. Visitors are invited to take a leaf from the installation if they like. Visitors are also invited to write a message on one of the blank leaves in the installation and leave it for someone else to take.

You then can follow each day's progress by jumping to the next day. Or you can go to any of these days.

To see the work of the other 1998 Connemara Artists