Jane Ingram Allen
Made In Taiwan
Kaohsiung County
Jan. 26– Feb. 6, 2005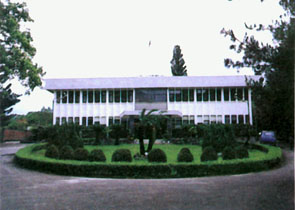 Host Organization: Liouguei Forest Research Center
Taiwan Forestry Research Institute
Liou-Kei, Kaohsiung County, Taiwan
Website: http://www.tfri.gov.tw
E mail:jplin@serv.tfri.gov.tw
We arrived at Liou Kei Forestry Research Institute late at night. We are staying at the Shan-Ping Forest Ecological Garden which is a 30 minute drive up a very winding road approximately 8 kilometers from the village of Liou Kei. When we woke up we saw how beautiful the location is with many flowers and trees.
The first thing we did after having breakfast was to set up the exhibition of the "stie maps" from the Made in Taiwan project in the forest research center's new interpretive center. In the afternoon we walked a trail around the Shan-Ping Forest Ecological Garden to look for plants that will make paper. Some of the plants/trees we selected are giant bamboo, a nettle family plant, a Formosan ficus, and a quinine tree. As we walked the trail, we were impressed with the beauty of the garden and the diversity of the plants.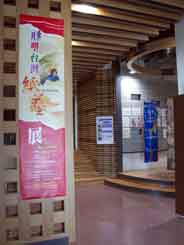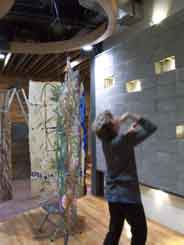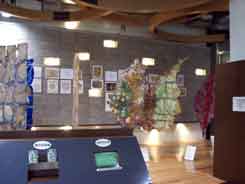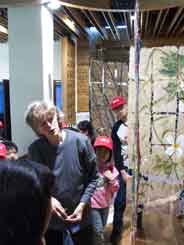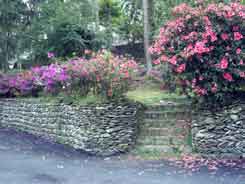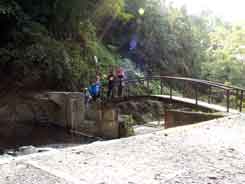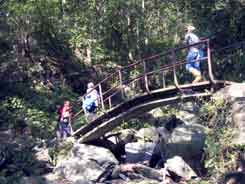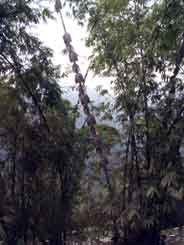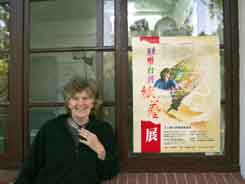 The second full day of being here was a busy one with setting up the studio, attending the opening, Jane giving a lecture and doing the demonstration. The workman who attended us on our walk went out with others to pick plants and cut branches from the trees. The studio is very good and will work well for the workshop and the demonstration. The opening was attended by about 50 people and the Director Lin of the Forestry Institute welcomed Jane to Shan-Ping. Many of the families attending the opening reception and program came to the demonstration and learned how to make paper. They did an excellent job and seemed to have a good time. The workmen brought additional material that needed to have the bark removed. The kids got into beating the sticks with a hammer and then peeling the bark off. We had enough bark to begin cooking. Overall, it was an exciting and very productive day.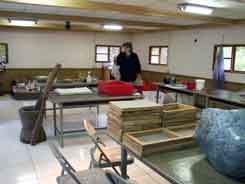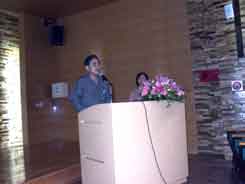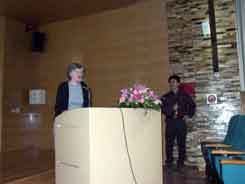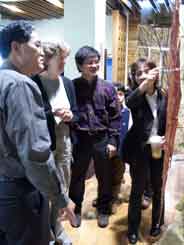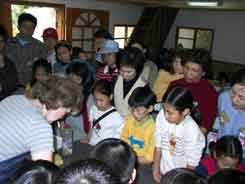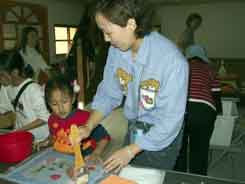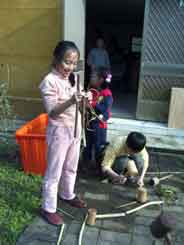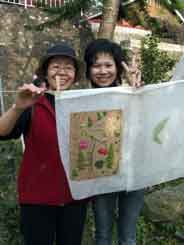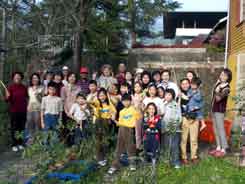 This is the first day of the workshop and it appeared that many people enjoyed making paper. The workshop participants also helped with preparing some of the plants for paper making. We now have two plants ready to make paper with two more ready to be put into the blender. We began cooking four more plants and still have the bamboo leaves to cook. We have nine plants in all that will be tested for papermaking.
Tim goes down nightly to the office to hook into the Internet to correspond with his students and to upload these web pages. He was able to visit the Saturday market at Liouguei. It was filled with food and game booths. This weekly market is one of the important entertainment activities for the people in this area.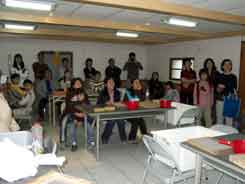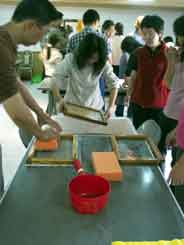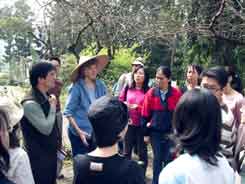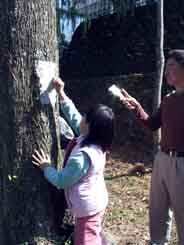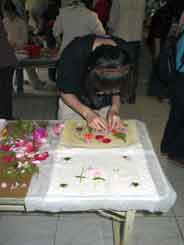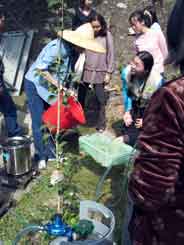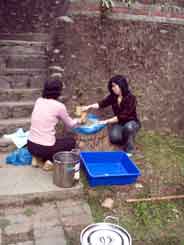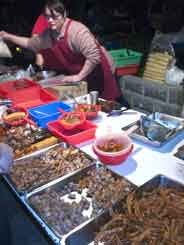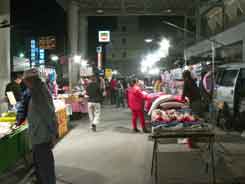 We woke up early and had breakfast. Tim took some photographs of our cabin, the surrounding areas and the workshop area. Today is the last day of the workshop. This morning Jane talked to them about various ways to make paper, and then everyone tried some of these methods. After lunch they worked on making art work from the paper they made. Jane also demonstrated making a bird sculpture, and some of the students created their own. One student made an owl. Jane then selected 5 pieces from this workshop for the traveling exhibit.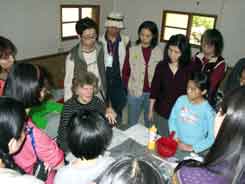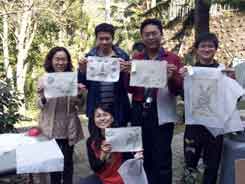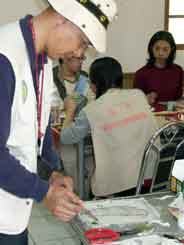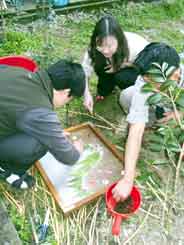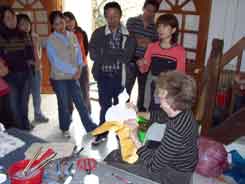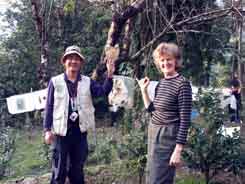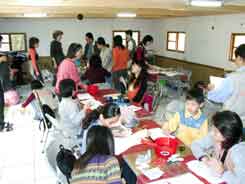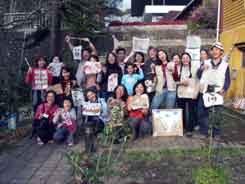 The day after the workshop was spent making paper from the plants picked around Shan-Ping. There are nine plants that Jane is using here, and all have been cooked, cleaned, beaten, cut and put through the blender. We had some excellent help from two volunteers. Most of the plants make good to excellent paper. Unfortunately, the tree bark from the tree that makes quinine did not make good paper as it did not have very long fibers. Nor did the giant bamboo leaves. Jane made samples and sheets from all of the plants. It is very damp here with us being in the clouds, and a soft rain is falling today. This has made it difficult to dry the paper. We had to hang everything indoors and turn on fans.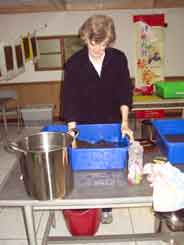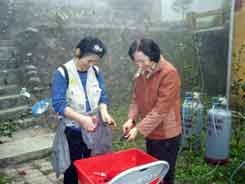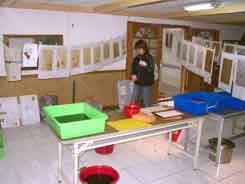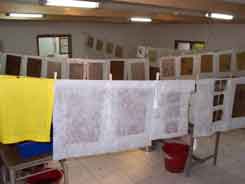 Today was focused on touring the area with particular emphasis on going to Meuning, a nearby Hakka village where the traditional paper umbrellas are made. Before we left, Jane removed the dried paper that she had made yesterday. Some of the paper was very beautiful, and many might even make paper for commercial use. The paper that came from the quinine tree, as we suspected, would not hold together.
On the way to Meinung we stopped at a unique temple that celebrates the pig as a god. As the story goes, a woman in her dreams was told by her pig to worship him and to take his bones and preserve them. The pig god temple has many pigs sculptures including the two very pink ones at the entrance of the temple. We were told we would have good luck if we touched the preserved pig's skull, and we all did this.
Meuning is about an hour's drive from Shan-Ping. It is a traditional Hakka villiage with interesting food, architecture and customs. The Hakka people came to Taiwan over 300 years ago from China. They have retained their language and customs. We ate traditional food at a restaurant owned by a woman who used to have her own restaurant in Las Vegas. The food was delicious, but we refrained from eating the dishes with meat.
From the restaurant we went to the umbrella store and were shown how they treat the paper to protect it from moisture. We purchased one of the umbrellas that had 100 children painted on it. In China it is good luck to have many children. You would expect them to take care of you when you got old and after you had died pray for your spirit to pass through the many levels of heaven.
From the umbrella place we went to a more commercial/tourist center that sold "traditional" Chinese products. It reminded us of "Cost Plus". We did find a traditional hat made of palm leaves. It is worn as a rain hat. They also had some of the largest gold fish that I have seen. We stopped and fed them.
Wayne Lin our host took us to "old street" in Meinung. He introduced us to a Hakka tailor who was 95 years old. Both Jane and I ordered traditional shirts made by him. He will send them to us when he is finished. Wayne also decided to have a shirt made as well. We then visited a paper sculpture business that was down the street. This business makes replicas of a deceased person's home and personal objects. These are present at the funeral and then burned. It is believed that this will make it possible for the deceased to carry with them the objects that they most enjoyed and valued in life. The shop had two paper flamingos and we were told that this bird was to carry a man from a the place of death to paradise. A female dragon would be made of paper and would be used to bear a deceased woman's spirit to heaven.. On this old street we also found a traditional Hakka house with salted pork hanging from racks outside on the street to dry and peanuts drying on the street.
It was a very interesting day and one that we will fondly remember for a long time.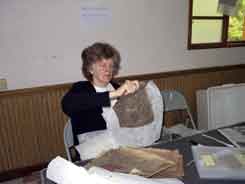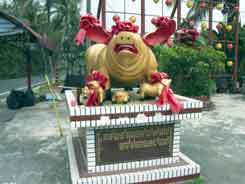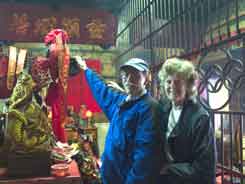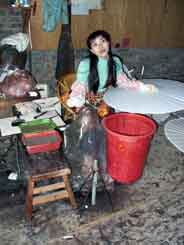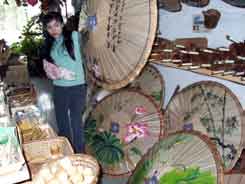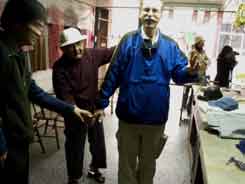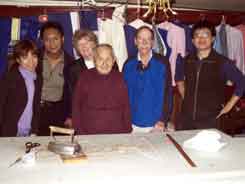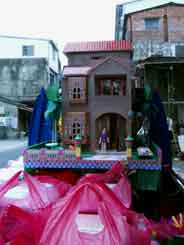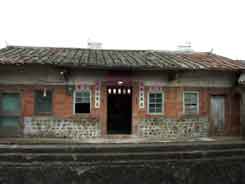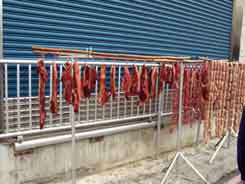 Following our day off touring some of the sites in Kaoshuing County, it was back to work. Since this is a forestry research center, Jane decided to do some handmade paper with impressions of the bark from different trees. She made a large stack of paper and then put them on the trees around her studio to dry. There were many to choose from so it was not difficult to get many good samples. It was a cloudy and cool day so it took the entire day to dry and even then some were still wet. After lunch there was a group that visited her studio. They watched as she worked on laying out her site map and then began to place leaves and other objects found from the area. By the end of the day Jane had put the acrylic mat gel onto the surface of her site map and put the fan on it to dry.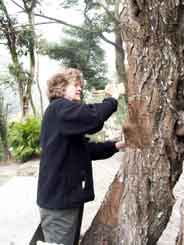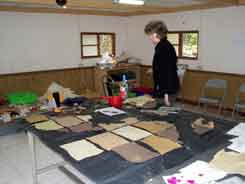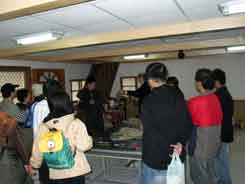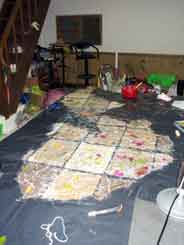 Jane has finished one side of each of the two site maps she is doing here. The second site map uses paper from the tree castings. We noticed a hugh beehive near the entrance of the exhibit hall. Fortunately it is no longer occupied by bees. We were told that the type of bee that builds such a large paper nest is very deadly if it bites you. We also had a treat for dinner, seafood pizza. Although it was good, Tim is still not used to the corn and peas that are a regular topping on pizzas in Taiwan. This pizza also had carrots.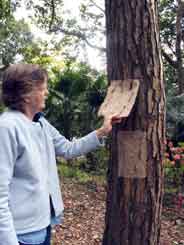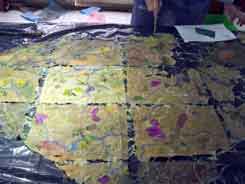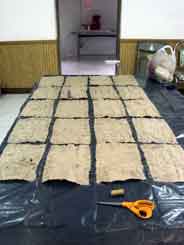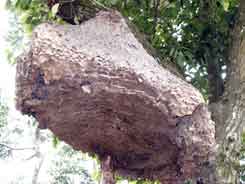 Our last two days in Shan-ping has been very enjoyable and the weather has turned warm and sunny. Jane has completed two site maps for Liouguei and we installed the final exhibit. During the exhibit opening Jane made friends with eight year old Grace. She is the daughter of a Shan-ping employee. Jane helped here with learning English by writing the English words as she said them in English. Grace later asked about each word and wrote them in Chinese characters. Grace is in many pictures and gently took Jane's hand as they walked around the exhibit area.
Last night we had dinner at a restaurant that specializes in seafood. It is the third time we have been there, and we have gotten to know the owners. It was also the Saturday night market in Liouguei village. We will miss Liouguei and all the staff and volunteers. Wayne Lin, our host contact, has been very helpful. He transported us up and down the mountain each day and made sure our stay was productive and enjoyable.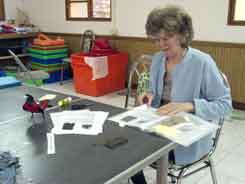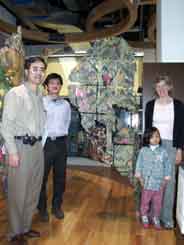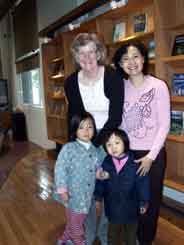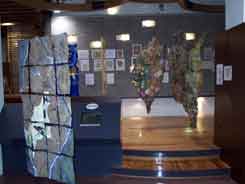 Return to Made In Taiwan home page

(updated on February 5, 2005 )
For more information on Jane, click on one of the icons below