Jane Ingram Allen
Made In Taiwan
Kinmen County
Dec. 20, 2004 - Jan. 2, 2005



Host Organization: Kinmen County, Culture Affairs Bureau, Sponsor Kinmen County Education Bureau
66, Huen Dau N. Rd.
Kinmen County 893 Taiwan
Contact Person: Li, Xi-Long
Email: sammy331@pchome.com.tw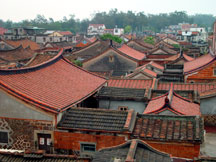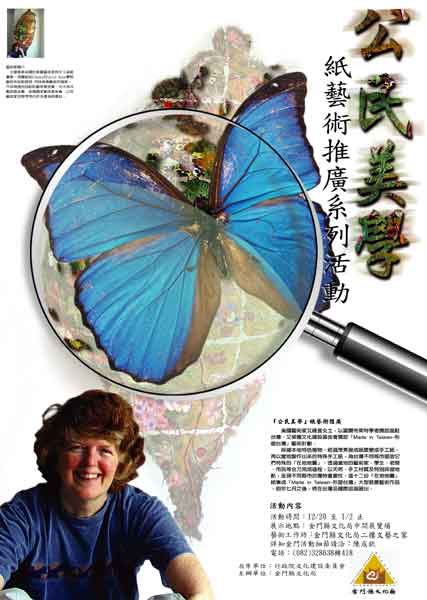 We have arrived in Kinmen and were greeted by three wonderful people, Mr Chen, Mr. Chou and Mrs. Wang. They took us to lunch as we arrived at lunch time. We then went to the hotel to check in and then on to where Jane's studio and workshop will be held. It is in the cultural center. After we got some things set up, we went to the Kinmen National Park to see a film in English about Kinmen that was very helpful for orientation. We then went in search of the thousands of cormorant birds that migrate to Kinmen. We saw them at the overview where you can also see mainland China, but it was hazy. There were also warning signs about mines. You truly got a feeling of living in a former war zone. Dinner was next at a restaurant where the owner and chef collected may interesting things.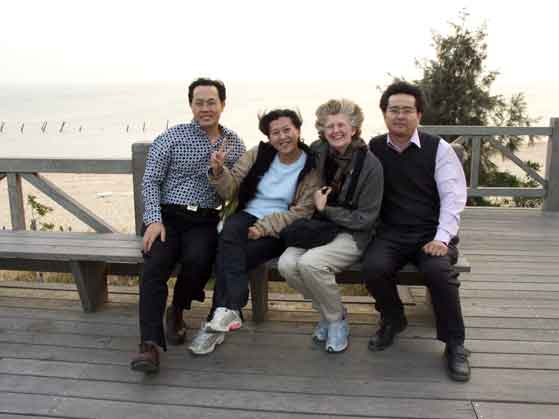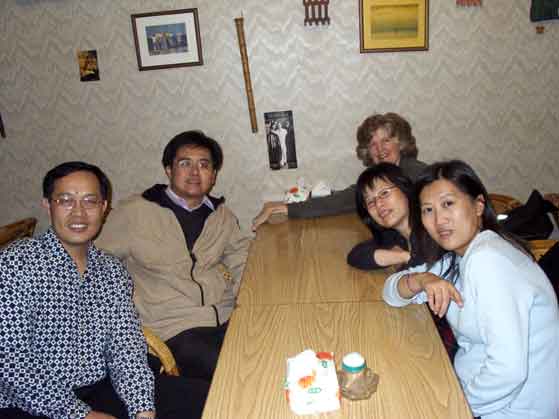 On our second day we were able to install the exhibit in a gallery that is between two main galleries. It is a very good space and will show Jane's work very well. It was wonderful to have all the help from the staff to install the exhibition.
We had a very special evening meal with Ms. Lee's family. This is a special holiday in Kinmen to celebrate the arrival of winter. We were the honored guests so we were allowed to be at the table for the entire meal (over an hour in length) whereas most of the other relatives--aunts, uncles, brothers, sisters and friend arrived, ate, and then moved to another location in the living room. Mrs. Lee cooked special food for us that did not have meat. She cooked a lot of food, some of it unique Kinmen dishes. Kinmen. We really enjoyed the food, but we didn't eat as much as she expected us to, and so she was concerned that we did not like the food. We later has fruit and tea and visited with the family, discussing families, holidays and other things for a very delightful evening.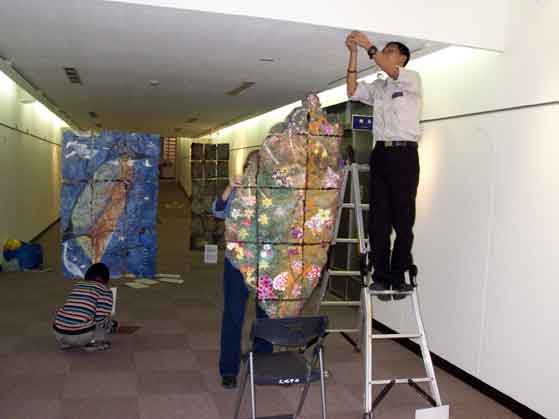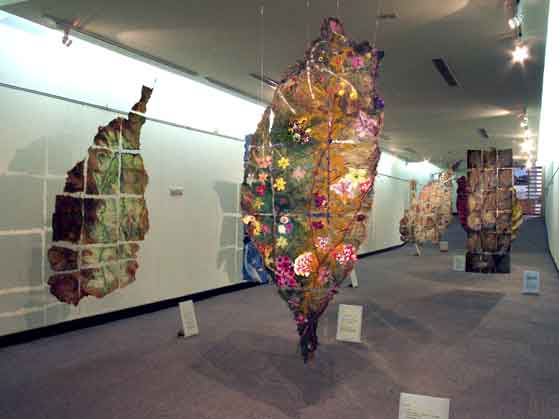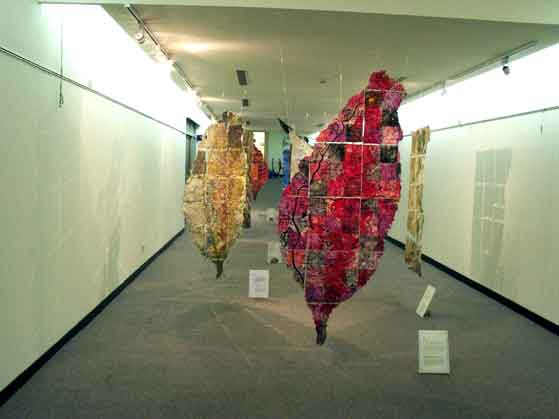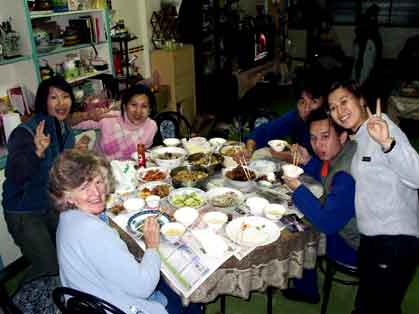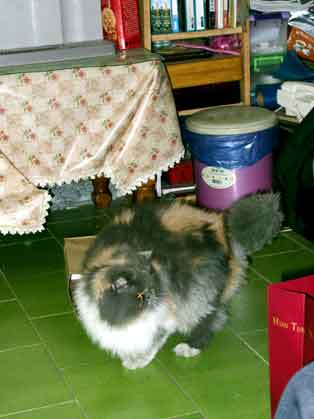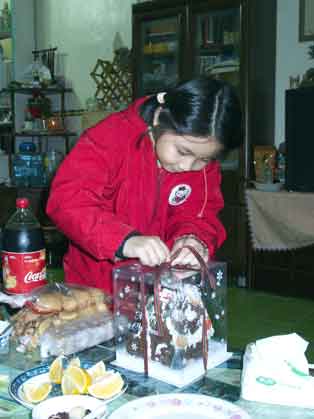 On the third day that we are in Kinmen we focused on the collecting of plants. We started out visiting Mr. XXXX at the Kinmen National Park. He is an expert and has written two books on plants of Kinmen. We conferred with him and then went out on a picking tour. We were able to get five plants that will be used. We are also trying to find sorghum, a plant that is used here to make wine. That may be difficult as the growing season is not during winter.
We also visited a traditional village street where a few people are living. We met an older women in her late 80's and she showed us her house. It was formally a doctor's house. Jane asked about some beautiful shells that had images of the Chinese zodiac animals craved on to the surface. She insisted that we take them as a present from her. Her picture with all of us is below. We visited another historical area where old homes are being restored and many now used as museums. The people who lived here built fancy homes that were a blend of Asian and European styles. These people made their money by going to Southeastern Asia in the late 19th and early 20th century.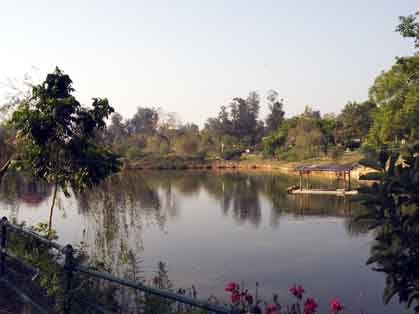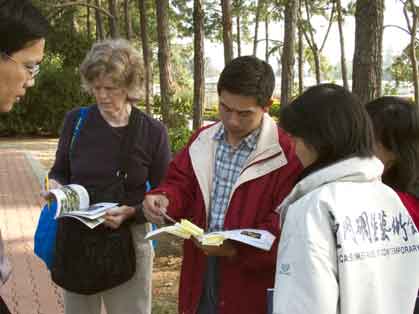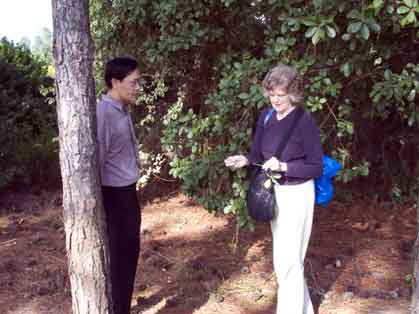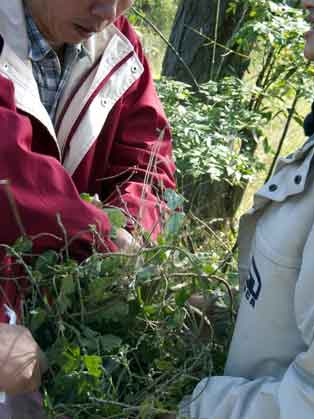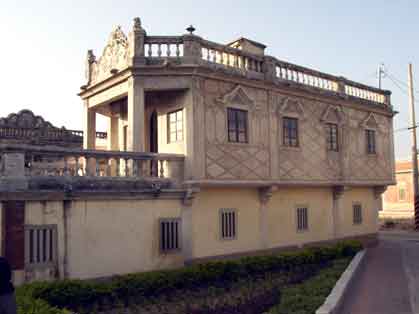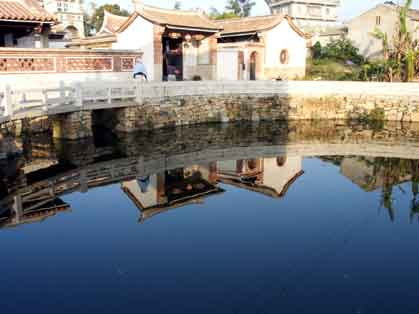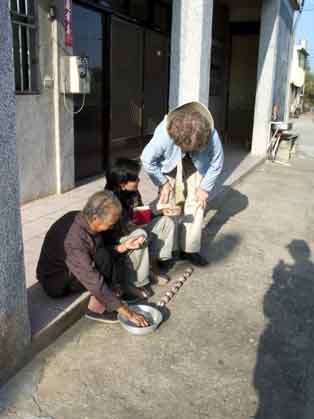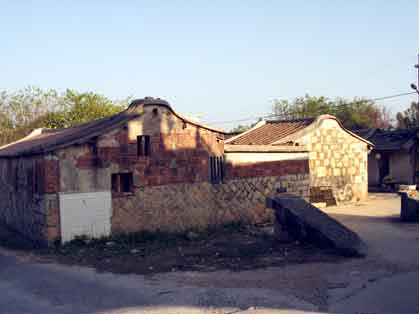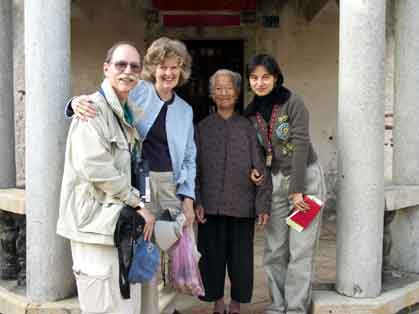 Today was a quiet day focused on preparing the plants that were picked yesterday. We had lots of volunteers to help cut and remove the bark from the five plants that were picked. One of the plants, the bark from the Laurel tree was very slimy and may not be usable. We also answered many of the Christmas and New Year email greetings that we have received from friends around the world.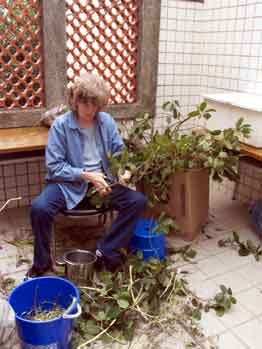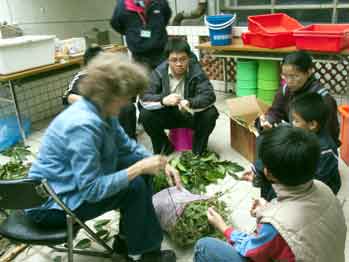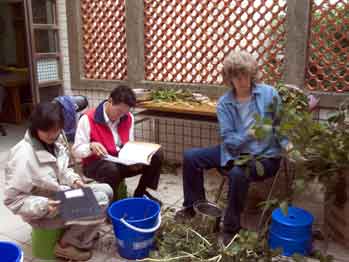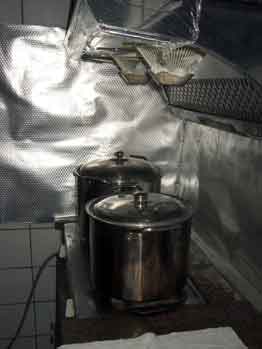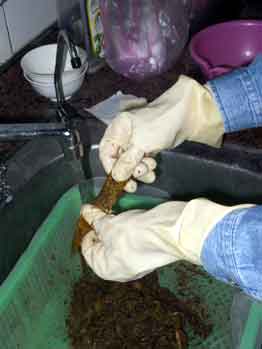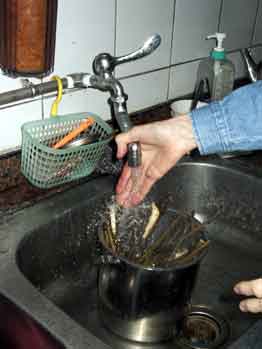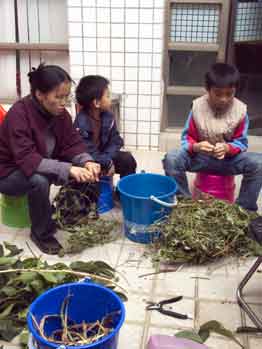 We continued to work on cooking and beating the fiber that has been found. We did make a couple of sheets from a vine found growing in a field. It was quite beautiful but made very little paper, and it required a lot of work pealing the skin from the stems. In the afternoon we visited the Kinmen Tower and the site of a former major defense area that has a series of caves carved out of granite. It is now a public site for people to visit. We also discovered some sorghum remaining in a field on our way back and picked it. It appears that it will make beautiful paper after cooking. To celebrate Christmas Eve we went out with friends to a local church and heard some of the children sing and ring bells. We then went to a restaurant for coffee and snacks. We exchanged gifts, and we received some Chinese high mountain tea and a fancy cup. It was a very enjoyable evening. Tomorrow is Christmas, but we have a two day workshop to teach.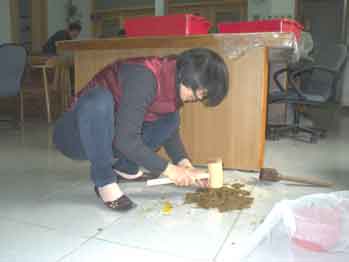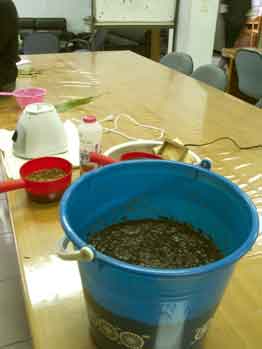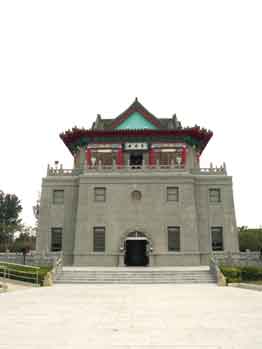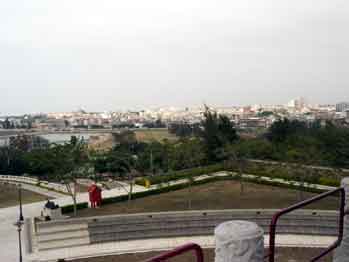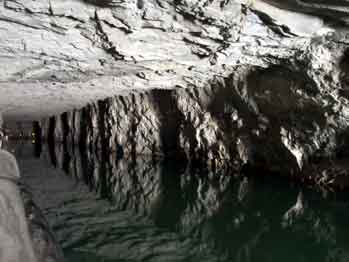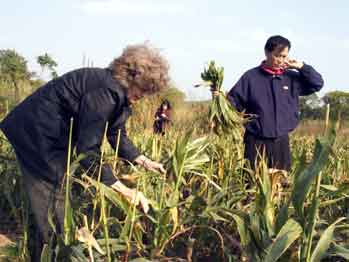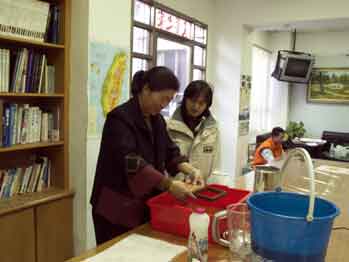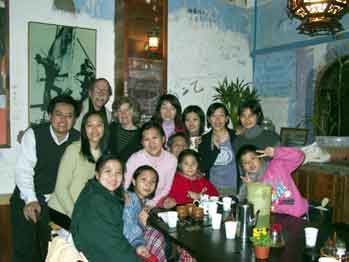 Today's workshop went very well. Students were enthusiastic about learning how paper is made and then making their own paper. They produced some very interesting works. They also gathered some other plants for making paper and toured Jane's exhibition. After the workshop we visited three of the Wind Lion Gods that are famous on Kinmen. The stone carvings of lions are to protect the people from the sometimes fierce winds of Kinmen. One of the Lions is a Water Lion, and villagers ask that it protect them from rising waters next to their village.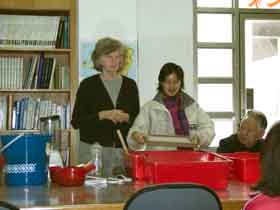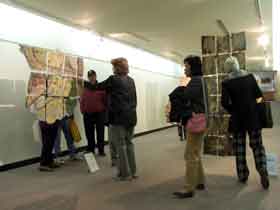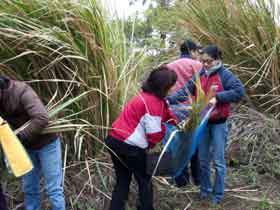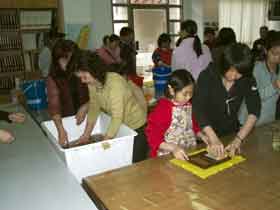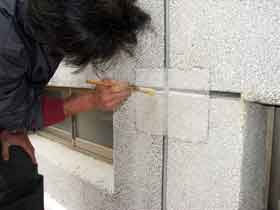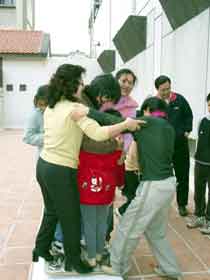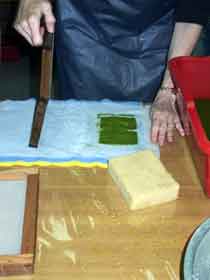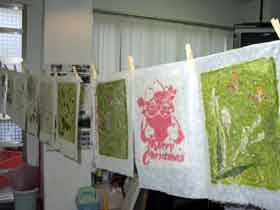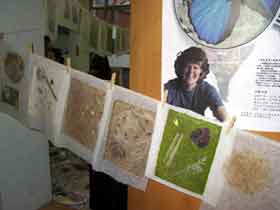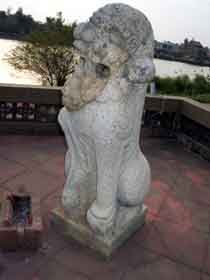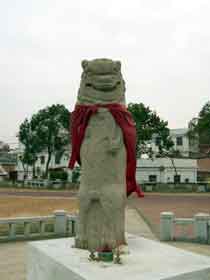 Today Jane completed teaching the workshop. The students made some excellent works using various methods including pouring the pulp. Several families participated in the workshop, and it was great to see parents and children enjoying working together. The pieces were very much reflecting Kinmen and the unique qualities of this place. They used some of the plant picked the first day to make paper. This plant is a variation of feather grass and very common all over this island. After the workshop we visited a few homes of some of the students. One woman thinks she would like to make a papermaking studio at her house for all of those who want to continue with papermaking art. Another student in the workshop showed us her father-in-law's traditional Chinese medicine shop. It is the oldest shop on the island. We also saw another wind lion god painted blue with green eyes. Tomorrow Jane will focus on doing her Kinmen Site Maps, making paper with plants from Kinmen. .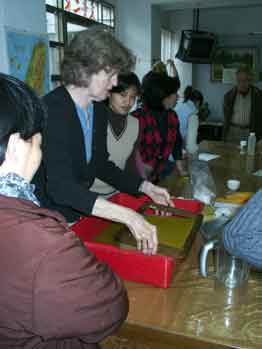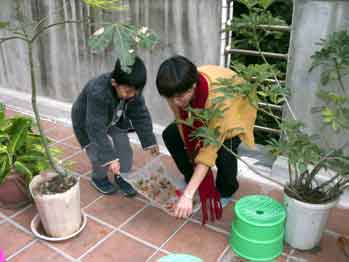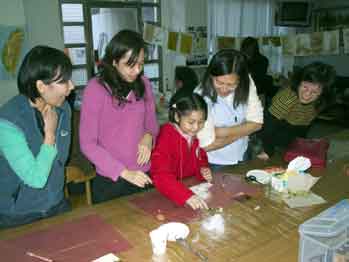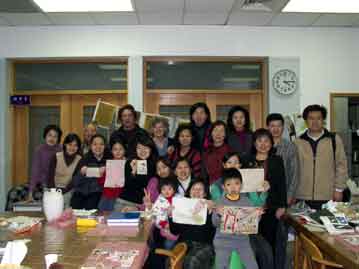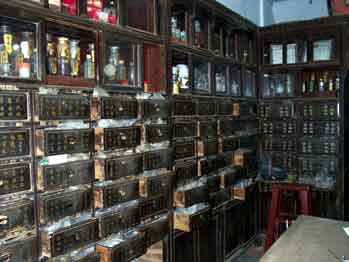 Today we celebrated our 36th wedding anniversary here in Kinmen. In the late afternoon one of the participants from the workshop came with fresh vegetables from her friend's garden and cooked us a meal. It was a rice noodle, vegetable and oyster soup. It was quite good. During the day Jane made paper with the help of some volunteers. We needed more Sorghum leaves, and a group of us went out to some fields nearby to strip leaves from cut plants. We now have samples from the seven plants that we have picked to make paper from in Kinmen. One, the Indian Laurel tree made a natural formation aid, but could not be used for paper as it was too slippery and jelly-like. Jane also made some paper that will be used for the Kinmen Site Maps.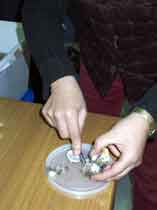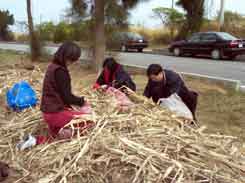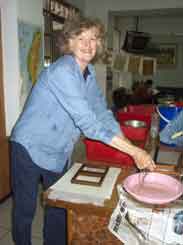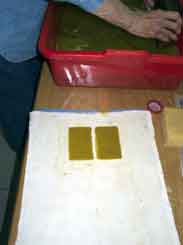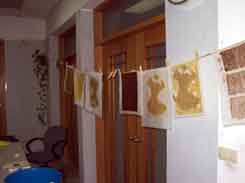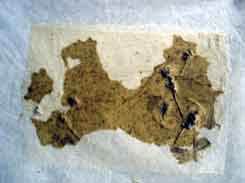 Today is Tuesday, December 28, 2004 and Jane is concentrating on getting her Kinmen Site Maps started. She finished making paper to place on various locations around the Cultural Bureau offices. Tim also was reviewing the photographs he had taken and realized that he needed to take some additional ones of some plants that were used for papermaking. While out taking these photos, the volunteers who went with him took him to an important temple and traditional village. He was also taken to see some additional wind lion gods. While at the temple he heard, very quietly, some music being played. Upon investigation he found that the four dragon-shaped objects on the altar were playing "Santa Claus is Coming to Town."a very interesting combination of cultures. The traditional village also had some very interesting patchwork stone and brick walls that are typical of Kinmen's old villages. Upon returning to the Cultural Bureau, Tim helped Jane put paper on granite monuments. She then began laying out her first site map.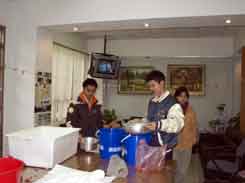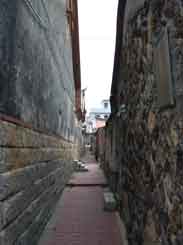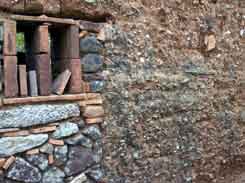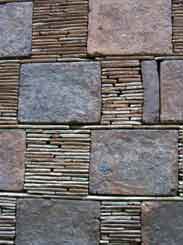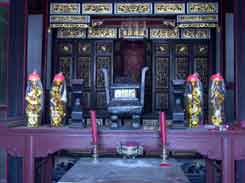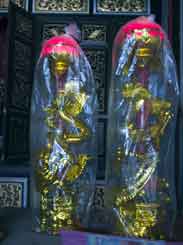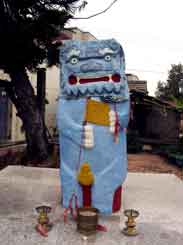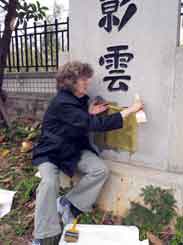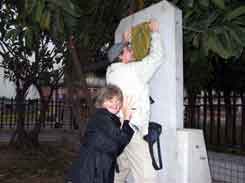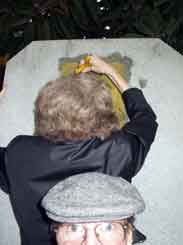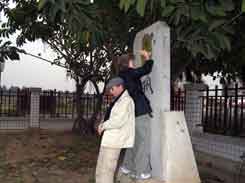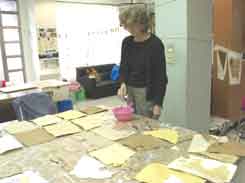 Jane continued to work on her Kinmen Site Map. She made additional paper to put on the walls of one of the old villages. We went to visit the Bunker Museum of Contemporary Art as Jane is writing reviews of this exhibition for publication in PUBLIC ART REVIEW, an American quarterly art magazine, and in TAIWAN FUN, a Taiwanese monthly magazine about thing to do in Taiwan. This exhibition of artists' installations in old military bunkers features 18 works by Taiwanese and Chinese artists. The weather has turned very cold here in Kinmen; I know, not as cold as in Upstate New York! We are bundled up against the cold wind, but still enjoying the warmth and hospitality of the Kinmen people.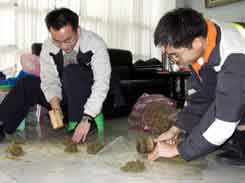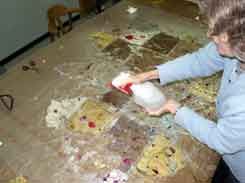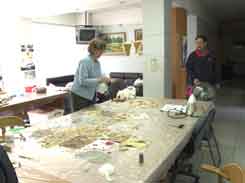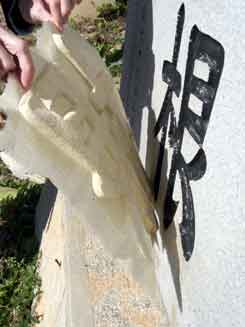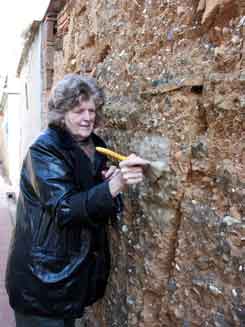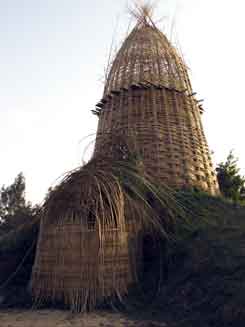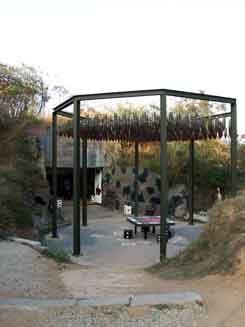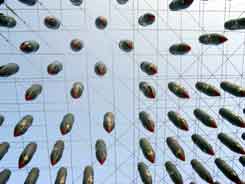 We are approaching the last days of 2004 and realized that we will have spent all but a couple of days of this year in Asia. It continues to be a fascinating experience. Kinmen is really very Chinese and a wonderful contrast to the more metropolitan and worldly Taipei. Jane continues to work on her site maps. She began to lay out and paint the second one, a wind lion god image using some of the paper that was dried on the monuments. The wind lion gods are truly a reflection of Kinmen. In Punghu they built wind towers, but here they are wind lions with lots of personalities. Jane also returned to the village to remove the papers that she had brushed on walls to dry.
For a second day we visited the Bunker Museum of Contemporary Art. The artists have used the bunkers to create their works. The curator, Cai Guo-Qiang invited children from the elementary schools to do exhibits in bunkers as well as 18 professional artists from Taiwan and China. The children of Kinmen created their art in bunkers too, and their creations range from gardens and insects to making miniature villages. We were also impressed with the bunker where Chinese artist Wang Jianwei converted the interior from a hard stone structure to a soft one by putting foam on the walls and floor. Overall, the impression of the Bunker Museum of Contemporary Art is good, and in some ways it was enhanced by the bunkers themselves.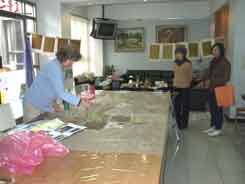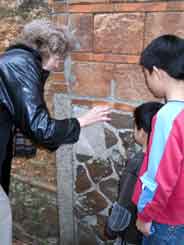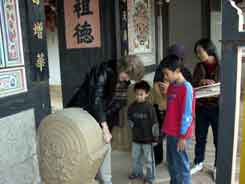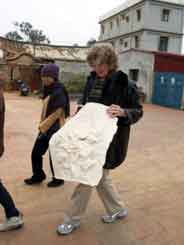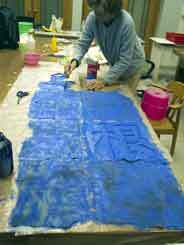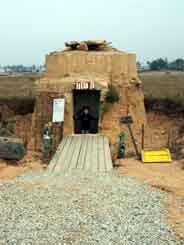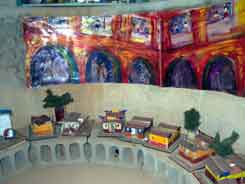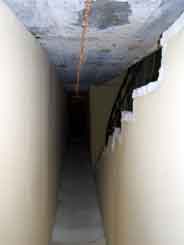 The last day of the year was an interesting mixture of Jane working on her Kinmen site maps and attending the opening ceremonies of the 90th Kinmen Day, a
Worldwide Festival. It is a day when all former residents of Kinmen return. It is like homecoming at a school. Since the exhibit of Jane's Kinmen site maps and the works by participants in the workshop opens January 1, 2005, today was focused on completing her two Kinmen site maps...one has a butterfly on the back because Kinmen is shaped like a butterfly, and the other is a Wind Lion God holding a map of Kinmen. After dinner, we attended the opening ceremonies of Kinmen Day. The program was made up of Chinese traditional and Western music (even "Santa Claus is Coming to Town", dance and vocals. We were privileged to be seated in the VIP section. It gave us another opportunity to observe the differences in cultures. The VIP seating was in the highest balcony, as the Chinese believe that the best place to be is at the highest point. We also were able to observe the continued need for the Chinese to communicate with each other. Many people were talking during the opening presentation by the welcoming speaker and also during the performances. Not only was there a need to be vocally communicating with those around them but also with those elsewhere. Many cell phones were ringing and being answered in the auditorium throughout the evening's performance. The performances really showed the talents and dedication of the local area's young musicians and performers. Kinmen truly is a different world made up of wonderful people and a rich culture.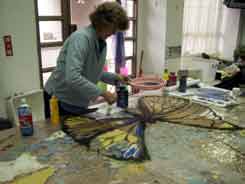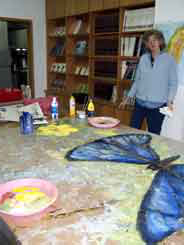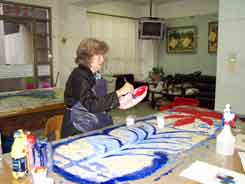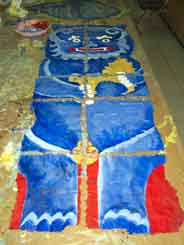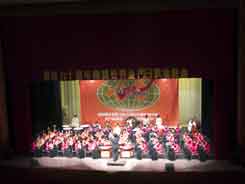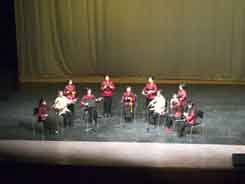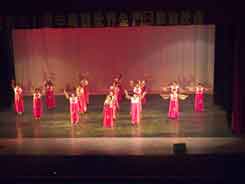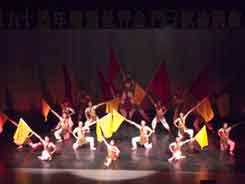 On our next to final day in Kinmen, Jane had completed two site maps, and the closing exhibition and party was held. It was a nice event with many of the students from the community workshop bringing their work to be put on display. Two TV stations and the one daily newspaper in Kinmen interviewed Jane. She also thanked the Kinmen County Cultural Bureau for their generous support and complemented the people of Kinmen for their kindness. We both found the people here to be among the friendliest in Taiwan. Following the opening, we visited a traditional folk village with the Wang family shrine where the National Parks Service is restoring the buildings. There are a number of people who live in this village that is located on the Northeast side of the island. On the way back, we stopped to see two Lion Gods, one with a green cape, and the other a small blue one built on top of a bunker. Tomorrow we will pack up, get an additional tour of the island and fly back to Taipei for a seven-day period before leaving for Pingtung.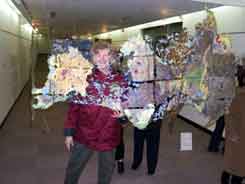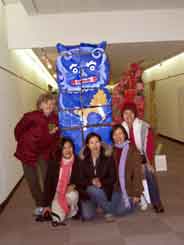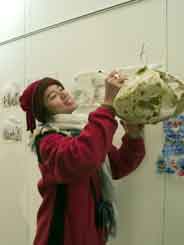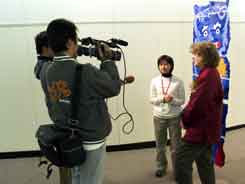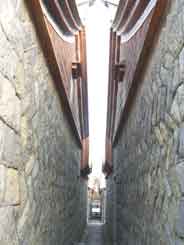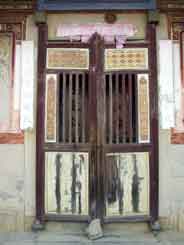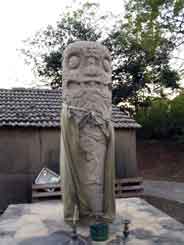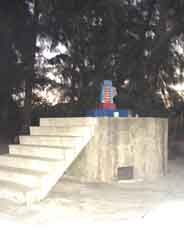 On our last day in Kinmen we packed and took down the exhibition. I did have the opportunity to take a couple of pictures of the the two site maps Jane made. One is called Garden Island and is map of both Kinmen and Little Kinmen. The other is Protecting Kinmen, a lion god holding a map of Kinmen. Director Li invited us to an excellent lunch at a Japanese restaurant. We then had a brief tour of the parts of the island we did not get to see before. We boarded the plane at 18.30 and got back to Taipei an hour later. It was a wonderful two weeks in which we made many friends and had an opportunity to learn more about Kinmen, its people and culture.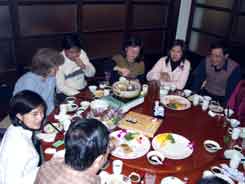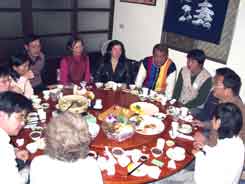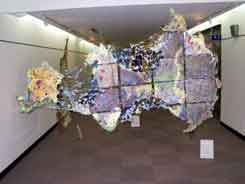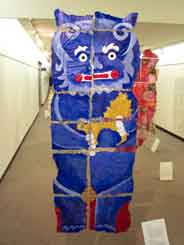 Return to Made In Taiwan home page
(updated on January 3, 2005 )
For more information on Jane, click on one of the icons below