Jane Ingram Allen
Made In Taiwan
Miaoli County
April 18 - April 30, 2005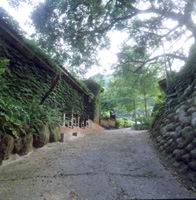 Host Organization: Huataoyao Botanical Garden, Ceramic Studio & Wood Kilns
31 Nan-Shih Li, Yuanli Township,
Miaoli County, Taiwan
E mail: bellehui@yam.com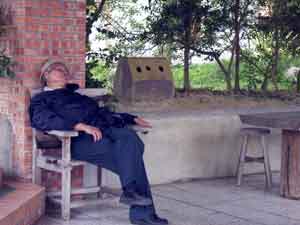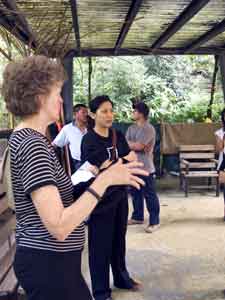 We have arrived at Huataoyao, we are as impressed with the beauty of this place as we were when we visited for one day last Fall.. It is a very relaxing place. This is evidenced by the many chairs that they have for people to relax in. When we arrived in the early afternoon, we noticed on older man asleep in one of the chairs.
We spent the afternoon reviewing the plans for a papermaking studio that they want to build and looking for the appropriate gallery space for Jane's work. It is very exciting that Huataoyao wants to build a permanent studio for papermaking. We will be involved from the beginning and help with the design and purchase of equiment and materials. We also will be assisting with the program planning.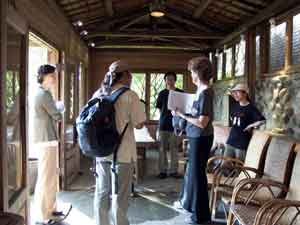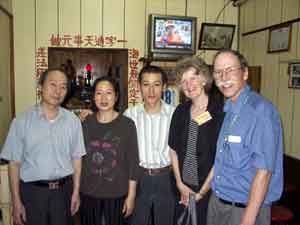 Once we have assisted in the design Jane will begin to work on finding suitable plants for papermaking. She will be working with the staff to train them on identifing the right plants and learning how paper is made. Here at Huataoyao, we will also get to see the "Spring Snow" where the local trees blooms white blossoms that cover the trees. There will be music and other programs that have a Hakka focus. The Hakks were one of the early groups to come to Taiwan - probably over 300 years ago.
We had dinner at a famous restaurant in Yuan-li. Its name is transilated, "When you smell this you will get off the horse". The food is excellent and inexpensive. This restaurant has had lots of reviews and visits by the media. The owner's son recognized Jane from a TV program that was done while we were in Yilan. Jane signed a card for him, and he honored us by present us with some of their famous fish to take home to the place where we are staying in the area. The owner and his family were invited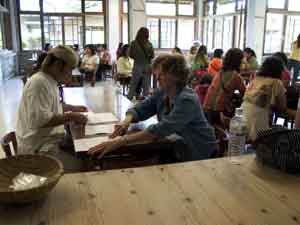 and plan to come to the opening for Jane's exhibition on Thursday morning.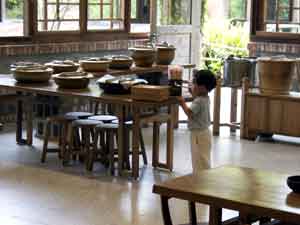 Today we continued to work with the staff to select the proper equipment and furniture for the papermaking studio. Once completed it should be not only functional but also beautiful.
We also put up the"Made in Taiwan" exhibition after lunch. By the way, lunch was very good with lots of vegetables and tofu or "dofu" as it is pronounced in Chinese.. The vegatables included bamboo shoots. This is a good season to pick them. They have a taste that is a bit sour and salty, but in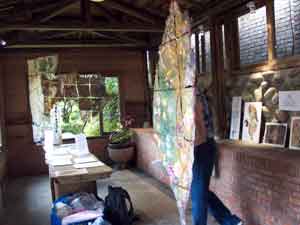 combination it is quite tasty. Visitors to Huataoyao stay for lunch. One of the visitors had a young son who helped himself to the food. He seemed to be enjoying himself.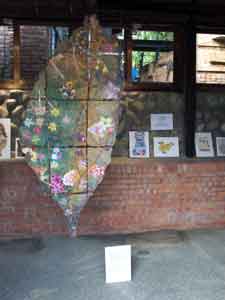 It took us a couple of hours to install the exhibition and put up the signs. Every place we go the exhibition area is different. This space is shaped like a narrow "L" and still has tables in it. We hung nine works and put out the community works that have been made in each of the 8 places we have visited so far.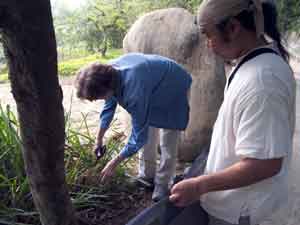 We began seaching for plans that would be suitable for paper making. We are were able identify 14 plants that would work. Since they are planning to begin a paper making studio it was important that we identify as many plants as possible even though we have used some of them before.
After lunch we went to the office and reviewed the schedule. They have a large Hakka festival at Huataoyao during this time, and it will be crowded with many visitors. I will be possible to continue to work and make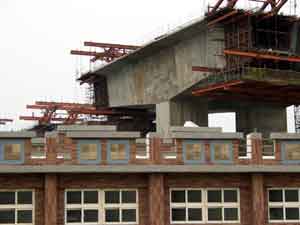 paper for the public to see.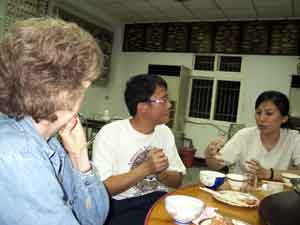 We also planned the two day workshop for Monday and Tuesday .On Sunday afternoon we plan to visit a number of historic sites and villages. There is one nearby village that has made paper for generations. Some of those people are planning to come to the workshop.
The next thing we did was go and pick some of the plants that we had identified earlier. Most of these are leaves rather than the bark of trees. We come back and washed some of the plants and will start in tomorrow morning to peel bark and cut up leaves. We needed to go and buy some equipment for the studio. We did this following dinner. Dinner was at a seafood restaurant and was very good. These was a major construction project taking place near the restaurant with an elevated highway. It created some fascinating views for photos.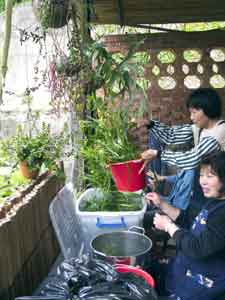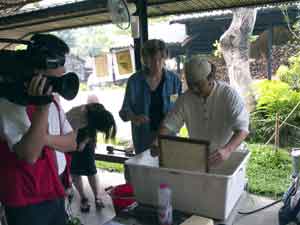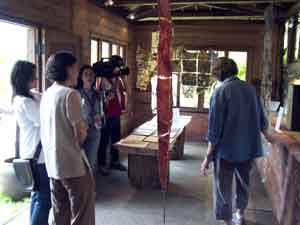 Today we began to cut up and cook some of the plants that we picked yesterday. Two of them Jane made into paper already. The boat leaf plant and the water bamboo both made very good paper. We were also able to begin cooking two additional plants, including a type of day lily leaves. The gardeners were busy picking additional plants. It seems now we have 11 plants plants from Miaoli County and Huataoyao cooked, ready to cook or picked. We had to order additional soda ash as we did not anticipate having this many plants.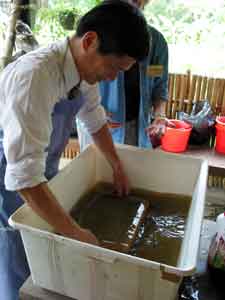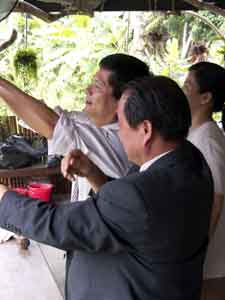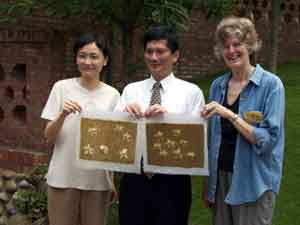 One staff member at Huataoyao, Mr. Lio (his nickname is Meow) made his first handmade paper. He was very proud of this and looked forward to sharing it with his wife and new daughter. We also taught papermaking to the two volunteers who are helping us with the cooking and preparing the plants. This was their first experience with hand papermaking as well.
We also had a news conference where two TV stations came and two reporters. An additional surprise was a visit from the Deputy Minister of Hakka Affairs, Mr. Lee, Yung-te. Mr. Lee, his Director Mr. Chung, Wan-Mei and some other staff saw the exhibit and then went to the papermaking studio that we have set up. Mr. Lee made some paper and did an excellent job even with all the TV cameras and many people looking on. He said that Jane should use his paper in the Miaoli site map after it dries.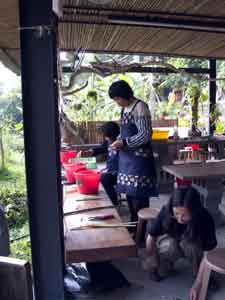 He stated to the press that he believed that every community should discover their plants that make paper and create some products with it. This is exactly what Jane has been encouraging every place that she has been. It was a very enjoyable visit for everyone involved.
Following the Minister's visit we continued to prepare plants for making paper. It will be a real challenge to get all of these plants made into paper in the short time we are here. Unfortunately, there is just not enough time to do every plant that can make paper that is found at Huataoyao. We will just have to come back and spend more time here, and hopefully the staff will be able to continue after learning from Jane at the workshop on Monday and Tuesday.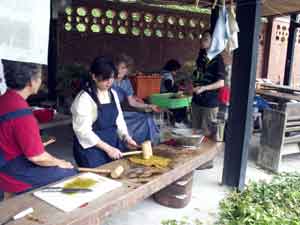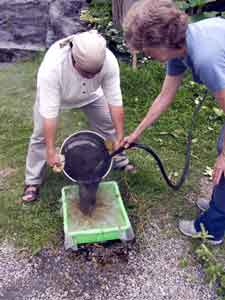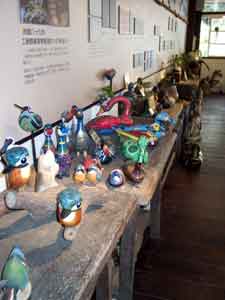 We continued to cook additional plants for paper making. We are now up to five plants that have been turned into pulp and samples have been made. We have an additional 3 that are cooking and four more that need to be cooked. We have some wonderful volunteers that are helping with cutting up the leaves and removing the bark. They have also become experts in beating the cooked fiber into pulp. Some of the paper is turning out to be very good while others are only marginal.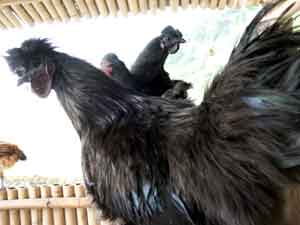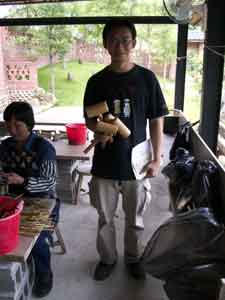 After lunch we went on a tour of the Miaoli County village of San-yi that is known for wood carving. The village has many shops that have interesting samples of carvings. Most of the wood that is used is camphor.. The village also has the National Museum of Wood Sculpture which we visited to see many fine examples of wood carving and various historical and cultural examples as well as a few contemporary wood sculptures. We also visited a former factory that made duck decoys and was almost going bankrupt before it was taken over by a private foundation and revitalized. This factory is now producing many duck-related items for tourists and having hands-on workshops for the public.. After this visit we went to an eco-farm in Miaoli County that is managed by the husband of a Huataoyao employee. This farm is producing rice and other crops that are chemically free. They are also raising chickens, geese and other water fowl for their eggs. They had some very interesting black chickens with fluffy feathers. I never realized that chickens can have facial expressions, but these seem to be very expressive. We received lot of eggs and will be sharing them with the Huataoyao cooks to prepare with the meals. After visiting with others at the farm we headed to the Rice Museum where we learned about the history and culture of rice production in Miaoli area.. All together it was a fascinating and productive day.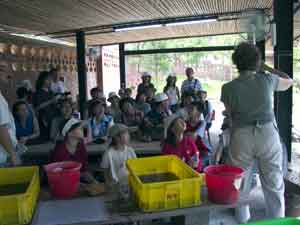 Today, April 23 was the beginging of the Hakka Tung Blossom Festival. There were many people at Huataoyao. Jane had a chance to demonstate pape making and to tell everyone what she does. We continued to make paper from the plants and have completed all but two. It has been much more than we anticipated but have enjoyed wotking with many of the volunteers and staff. There was a camera crew there today taking pictures of Jane making paper. They work for the national telephone comany Zhong Hua Telecompany. They will produce a ten-minute film on Huataoyao and broadcast it over streaming video on Hinet, Zhong Hua's web promotion page.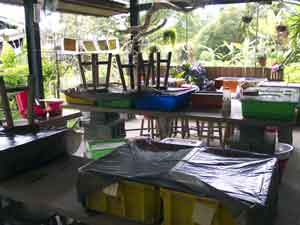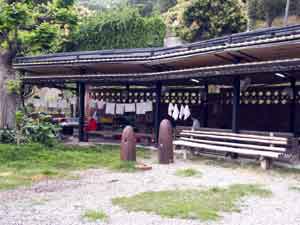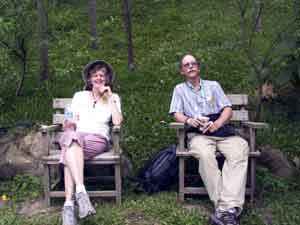 Today, Sunday was the last day of the Hakka festival. There were many people at Huataoyao. The tour guides arranged for the groups to visit Jane's studio. Jane demonstrated paper making and talked about her "Made in Taiwan" project using plants from the area to make paper for her artwork.
We cooked one of the remaining plants this morning and then made paper. It is a citrus tree grown in China called Yodzi. It is sweeter than a grapefruit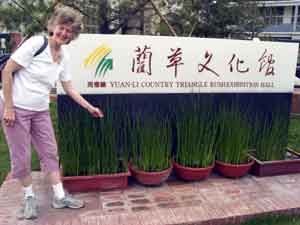 but tarter than an orange. It turns out that the bark of this tree makes a very nice paper. We will see tomorrow how it is when it dries.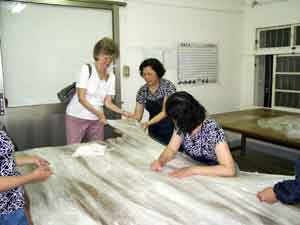 We left this afternoon to visit the Rush Museum that specializes in exhibits on growing and producing of related products. These include the Tatami mats that many people in Japan sleep on and use for floor covering. They also make decorative items such as hats and sandals. Jane was able to get some rush pieces that she will use in her site map. It was an interesting and well done museum
We then went to a silk factory in Miaoli County that is growing silk worms. It is the first time that I have seen silk worms eating mulberry leaves and producing cocoons. The workers take the cocoons and spread them in large triangle shaped pieces. They then pull these out to form the material used to make the soft stuffing for the comforters.. We tried to pull the silk forms into the long shapes and found it took more strength that we had originally estimated. They also had a gift shop at the silk factory that sold a large number of silk items including underwear.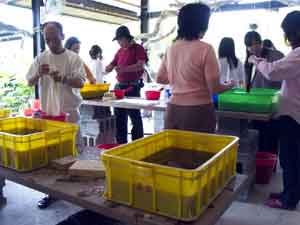 Monday was the first day of the workshop. Students first saw Jane's Powerpoint lecture on "Paper Possibilities" and then made paper using the Western method. They then stacked all of the paper together to made a large stack. Boards were put on the bottom and top of the stack, and by standing on the top board the students became a human press. The pressed paper was then placed on various objects around the studio to get some embossed patterns in the paper when it dries. The students put the paper to dry on walls, trees, buildings, stones and any other interesting object around the studio area.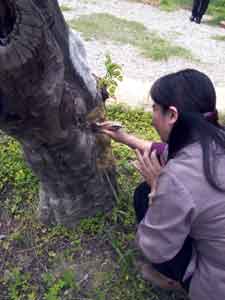 After lunch Jane took the students on a nature walk to see the plants that would be suitable for paper making. While on the hike they picked some of the flowers and leaves that they will use to decorate their paper. Many came back with very fascinating objects. The group also gathered another plant called "red leaf" that will be cooked and used for papermaking.
Following the workshop we went with Jeff, Catherine and her family and friends to the mountains to look at fireflies or lightning bugs. It was about a 45 minute ride and took us through some very rural areas. It was dusk when we arrived, and we walked up a mountain side where there were lots of plantings. In the darker areas you could see the fireflies rapidly blinking off and on. As it grew darker, more fireflies became active, and the whole hill side became lit with blinking lights. It was as if thousands of fairies were flitting around each other talking and making merry. It was truly a beautiful site. Unfortunately, none of the photos I took turned out. We then went to dinner at a Hakka restaurant that had some excellent food. We had fish chin from the salmon and cooked mouth of the octopus. We tried both of these. It was a very active day and quite enjoyable.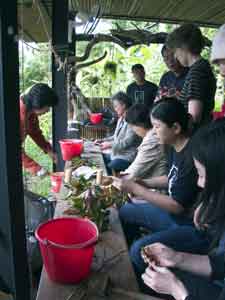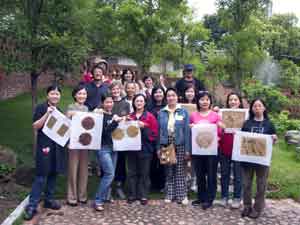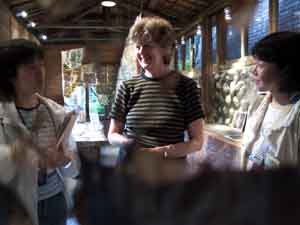 Today marked the close of the workshop. Overall, Jane described it as very effective and an enthusiastic group of papermakers.. The group was very interested in the flowers and plants that would make paper. There was a group from Shi-tan, a nearby historic community that already is doing some papermaking. They were very interested in Jane's various methods of making paper and the plants that were used. During the two days they were able to cook three plants and see how they were made paper. Jane also covered the pouring technique and other creative methods for using paper to make artworks.
Tomorrow we will be visiting that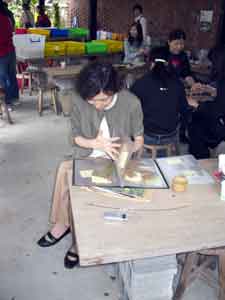 village to see how they are restoring the traditional papermaking tradition of the area. It will be interesting to see how they are making paper.
Toward the end of the workshop, Jane had a visit from a Japanese magazine called "Trinity". The reporters and photographers were fascinated about Jane's ability to make paper. They were very pleased to know that she had learned the Asian method from masters at the Mino Washi Museum in Mino, Japan. They also enjoyed knowing more about the various plants that can be used to make paper. They also visited Jane's exhibit in the Gallery. They were impressed with the ideas and the materials from each place that we have visited.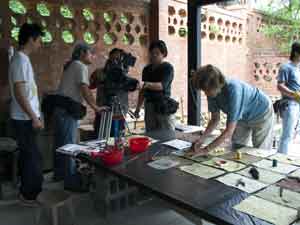 Wednesday was the first day for Jane to work on her Miaoli Site Map that she will make from all the handmade paper created from the plants of this place. We originally set up in the open air studio space but found it to be too wind to lay out the paper and work on the Site Map. We then moved into an office area where the pieces would not be blown around. Before we moved, a film crew from the Taiwan Tourism Bureau came to film Jane's activities. They were visiting here to make a film about Hwataoyao.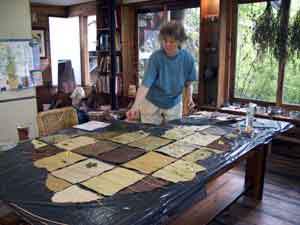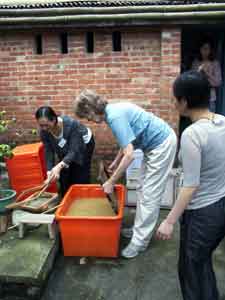 After moving into the office space, Jane began to lay out her work using a map of Miaoli county as the guide for the shape. She then added flowers, leaves and plants gathered here to the surface. She then connected the individual pieces of paper with many different natural-colored strings. To hold all of this down she is putting matte acrylic gel on the surface; this also protects the leaves and flowers. She was able to accomplish part of this task before leaving for She-tan village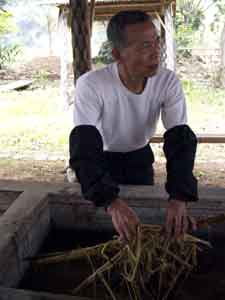 She-tan is a small Hakka village nestled into the hillsides of central Miaoli County. It is the location where the Chinese during the Ching Dynasty brought papermaking to Taiwan. They made bamboo paper and mulberry bark paper, and the She-tan village people have been researching the traditional way of making paper and using those methods.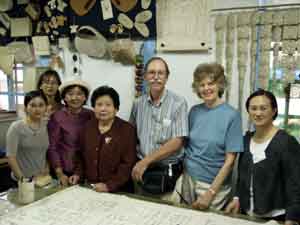 They break down the bamboo by soaking it in lime for 3 to 6 months. They then wash the fibers, cut it into smaller pieces and beat it. They do not cook it. They also get mulberry bark from the tree that is used to feed the silk worm. They cut the bark that is pulled from the tree and beat it. They also do not cook the mulberry bark. It was fascinating to watch them make paper. Jane had a chance to also make paper at the She-tan workshop.. They have developed many products that they sell in their store/workshop.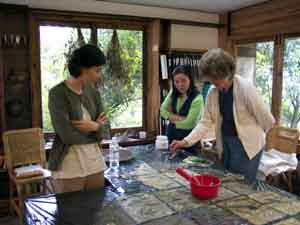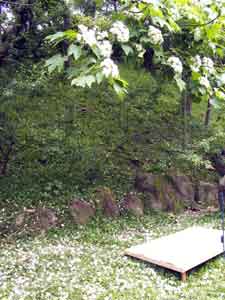 The day started early as Jane needed to complete the Miaoli site map. We arrived at Hwataowao at 8 AM. Our drive, Mike has been very good about getting up early to take us almost everywhere. Jane started painting and continued throughout the day. She had a number of visitors who observed how she was progressing. She worked on one side and then on the other. She completed the site map at about 8 PM. It was a rough 12 hours but she produced a very strong work.
Tomorrow, there will be a news conference in which the press will be invited. We will install the work and have it ready. There will also be a Power Point presentation on our 10 days here at Hwataowao. We do one of these at every location and it is wonderful way to relive the events and people that we have met.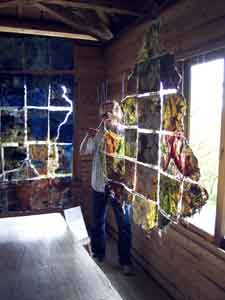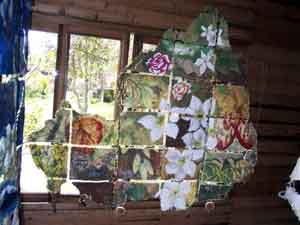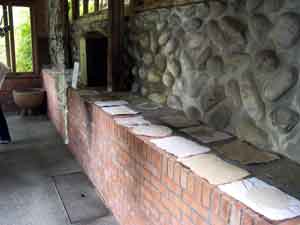 Jane's closing exhibition was held in the gallery space at Hwataoyao, and many reporters attended. The Miaoli County Site Map Jane made with materials from this place and the many works by the community workshop participants filled the gallery space. Jane's site map for Miaoli County was made from paper using all 14 plants we picked and made into pulp here at Hwatayao. It featured many leaves, flowers and reflected our experience of Spring time in Miaoli County and the Hakka Tung Blossom Festival. Jane selected five of the community works from the Miaoli workshop that will become part of the "Made in Taiwan" project to go on to the next places. The rest of the day was spent packing up all the materials and supplies to send on to San Zhi, our next stop for the "Made in Taiwan" pronject. Jane also taught some of the staff how to save pulp for future use and gave some final advice about continuing papermaking activities at Hwatayao using plants found there. The formation aid we made from the Malibar chestnut root seems to work well, and the wood ash from the acacia tree seems to also work well for cooking the plant materials. It is good that Hwatayao has all the plants to use and keep the process using all natural materials.
Return to Made In Taiwan home page
(updated on April 29, 2005 )
For more information on Jane, click on one of the icons below