Jane Ingram Allen
BURNED WORKS
"Burned Works" is a series begun in 1999 that uses the process of burning to create imagery and form. The "Burned Works" are a continuation of my interest in utilizing the natural processes of change to create art works that reflect the beauty and power of nature and the changes that occur as part of the cycle of life. I have been using natural deterioration and weathering in indoor and outdoor installations since 1995. These works deteriorate slowly over time and are designed to give aesthetic appeal in all stages of disintegration and eventually disappear as compost. They use natural bio-degradable materials that contribute positively to the environment becoming mulch or in some cases food for wildlife. Please see the section under Gallery called "Environmental Works" for more information and photos of these works such as "For the Birds", "Leave Taking" and the temporary shelters made during my 1996 residency in the Philippines at the Duntog Foundation.
In some installations I also make use of viewer participation to change works over time and show the effects of natural processes. An example of this type of work is "Brick Wall" which is shown under "Multi-part Works. Other installations that utilize viewer participation include "Turning Over A New Leaf" and "Letting It All Hang Out". In these installations the work of art is changed continuously by the viewers, and viewers in a sense become co-creators as well as instruments of the natural processes of change.
The burning of my "Burned Works" is controlled in part with the use of fire retardant which is applied to the handmade paper constructions before setting the piece on fire. Many of the constructions used in the "Burned Works" have a wire frame or structure underneath the paper pulp, and when the paper burns the wire structure remains. The patterns, colors and textures of the burned paper are beautiful and powerful reminders of the awesome wonder of nature. These works also comment on our human fascination with natural disasters and paradoxical wonder at and horror of burning, floods, tornadoes, earthquakes, etc. We cannot stop watching, and it is somehow beautiful and horrible at the same time. My use of fire and controlled burning of art objects gives us some satisfaction and sense of control over nature.
Paper is an ideal material because it burns easily and can be treated with fire retardant....it also makes nice ashes and charring patterns. I first became aware of fire retardant capabilities of paper when I had to fireproof my 1994 installation in the New York City subway system. I became fascinated with this potential for control of the process of burning and using burning as a way to make visible the process of change. The use of handmade paper and exotic plant fibers in my work amplifies the feeling of horror and anxiety --this is a precious handmade object that is being burned up. The works are exhibited as gallery installations after the burning and are created as site specific pieces. The gallery installation also has a video monitor continuously playing a video tape of the burning process. The burning of the work is usually a public performance piece accompanied by live music composed by my son Chris Allen and performed by his jazz band Central Artery Project. This series also goes along with my questioning of the whole idea of permanency in art and my feeling that since everything is going to change over time anyway, why not make use of this change as a positive contribution to the work of art.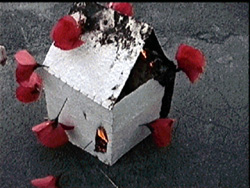 "Patterned Flowers," George Billis Gallery, 508/526 West 26th Street, 9F, New York, NY 10001.
Jane was invited by gallery owner George Billis to exhibit her work in this summer show of works by 13 artists using repeated flower patterns. The opening reception for the artists was Thursday, July 27, 6-8 PM.
Jane's piece for this exhibition is called "Blooming House," a wire and handmade paper house form about 18" square with giant poppies coming out of the house and flower patterned wall paper visible inside. The house was burned in a controlled burning in Jane's studio parking lot. Here are some photos of the burning which was captured on video tape. The burned house was displayed in the gallery along with the video showing the burning. The show closed August 17, 2000. The video can be viewed on Real Player. You can see a video of burning the "Blooming House". Jane's first work in this series. For 28k modem connection speed click here. For 56k modem connection speed click here.
"Fragile Structures," September 22 - October 21, 2000, Essex Art Center, 56 Island Street, Lawrence, MA. Opening reception - Friday, September 22, 5-7PM.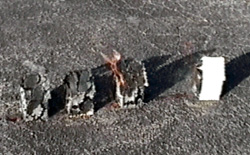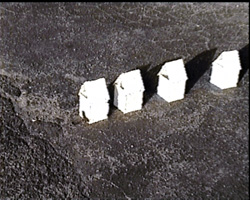 For this exhibiton Jane did her "Burned Houses" installation in the gallery with a public performance burning at the opening reception and live music by Chris Allen and Central Artery Project. The performance burning was videotaped. This invitational exhibition featured works by six artists who make sculptures and installations with fragile media and techniques. Lawrence, MA is in the Boston metropolitan area.