Selected Public Art Works and Commissions
Millennium Leave Taking, 2000, First Night Binghamton, 8'x250', handmade paper, dye, netting, paper clips, messages composed by viewers, Binghamton, NY.
Jane was commissioned by First Night Binghamton to create a participatory installation of 20,001 handmade paper leaves for First Night Binghamton, Binghamton, NY. The Fulton Street gallery in Troy, NY also invited Jane to be an artist in residence for the month of December 2000, and joined in helping with the First Night Binghamton project. Jane worked with Troy community participants to create an indoor installation of 2,001 handmade paper leaves which was on display at the Fulton Street Gallery, a non profit art center at 406 Fulton Street in downtown Troy, during the month of December. The Troy leaves were transported to Binghamton to join with the large installation for the First Night celebration in Binghamton.
Community volunteers worked with Jane during November and December to make the thousands of handmade paper leaves, each unique and ranging in color from greens, to yellows, oranges, reds and browns. Each leaf had handwritten text by participants about the cycle of life and resolutions for the new millennium. At the installation viewers were invited to take a leaf as a souvenir and leave a leaf that they wrote for someone else to take, thus making a constantly changing and evolving participatory art work. This work MILLENNIUM LEAVE TAKING was similar to Jane's 1998 piece made at Connemara Conservancy in the Dallas, Texas area. For more information on Connemara click here.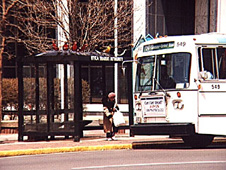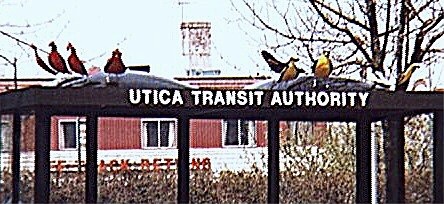 Bird Watching, 1997, sculpture/installation of 100 birds, each about 18" tall, made of painted handmade paper over wire armature and coated with polyurethane, installed on bus shelters in Utica, New York.

Each bird in the "Bird Watching" project is unique, slightly different in size, shape and color. The birds appear to be watching the people as they wait for the bus, look out the windows of office buildings, or pass by on the street. This project was funded by a grant I received from the Ruth Chenven Foundation, Inc., New York City. I worked with the City of Utica, Department of Urban and Economic Development, and with the Utica Transit Authority to coordinate the installation of the sculptures. The "Bird Watching" project was installed in June 1997. The birds have been installed in other locations:
Birdwatching 2, Empire-Fulton Ferry State Park, Brooklyn, NY;
Birdwatching 3 - Migration at an abandoned barn in Munnsville, NY.


People Fence, 1995-98, sculpture/installation work , 11 lifesize figures of painted aluminum joined with wire, installed at the Utica Zoo, Utica, NY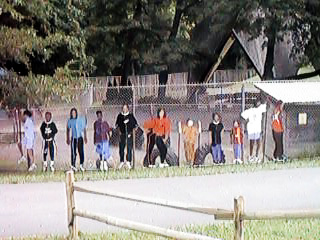 To create the "People Fence" I worked with youth from Utica's Municpal Housing Authority for two summers. The cut-out figures represent the kids themselves, and the youth participated in the project by painting their own images. This project was funded by a n "Artists at Work: Community Projects" grant I received in 1995 from the Central New York Community Arts Council, the New York State Council for the Arts State and Local Partnership Program and the New York Foundation for the Arts. This grant program supported projects where artists were working in the community and actively involving the local community in art. Zoo officials are excited to have the new public art work and are talking about expanding the "People Fence" by adding more kids and perhaps animals in subsequent years.




High Five, 1994, 5' x 15' x 3', suspended sculpture in five parts of painted handmade paper and string in a New York City subway station at 42nd Street/6th Avenue.

"High Five" is a colorful abstract representation of five hands raised in the traditional gesture of greeting. It hangs over a subway ramp, and the hands decrease in size as the incline of the ramp increases. The handmade paper forms are joined with string and painted with acrylic paints in a rainbow progression of colors. The forms have the opposite color on the reverse so that the viewer gets an entirely different view coming from the other direction. This site specific temporary installation is the result of a grant from the Metropolitan Transit Authority, Arts for Transit, Creative Stations program. The work remains on view in the subway at 42nd Street between 5th and 6thAvenues, New York, NY.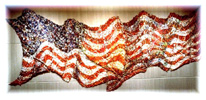 Blowin' in the Wind, 1992, 5' x 12', commissioned site specific wall relief sculpture of painted handmade paper and string installed in the boardroom of ASCAP (American Society of Composers, Authors & Publishers), New York, NY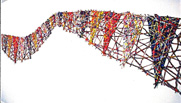 Continuing Celebration (detail), 1992, 5' x 70' in three sections, commissioned site specific wall relief sculpture of painted handmade paper and string in the Main Lounge, Federal Reserve Bank of New York Operations Center, East Rutherford, New Jersey


Federal Reserve Bank Commission Re-installed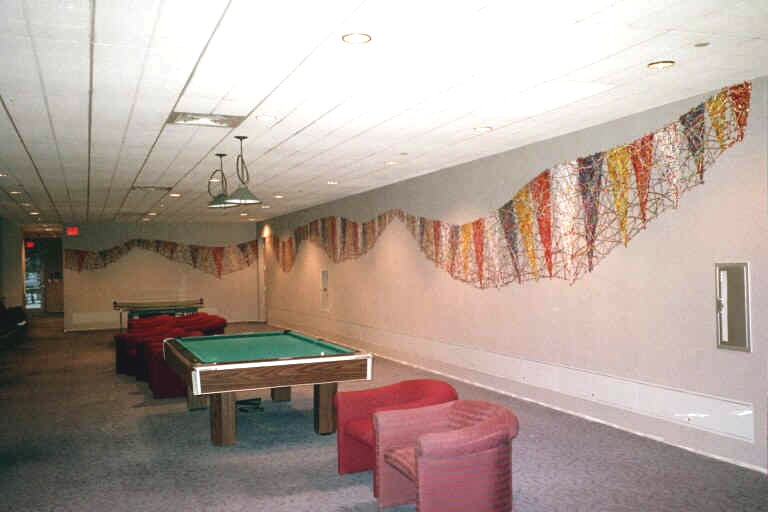 On January 10, 2003, Jane re-installed the 72-feet long site specific work she made in 1992 for the opening of the Federal Reserve Bank of New York's Operations Center in East Rutherford, NJ. Jane's work had to be taken down in Fall 2002 for building rennovations. Jane redesigned the painted handmade paer and string construction to fit the renovated wall. The work remains on view in the Main Lounge of the bank's 24-hour operation center.

Letting It All Hang Out; 1995; size is variable; recycled clothing, paint, clothes pins, clothesline, laundry basket.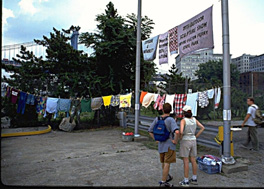 Letting It All Hang Out was an interactive installation and part of the Brooklyn Waterfront Artists Coalition's 1995 Outdoor Sculpture Exhibition at Empire-Fulton Ferry State Park, at the foot of the Brooklyn Bridge in Brooklyn, NY. This sculpture of used clothing was installed by me as a performance piece at the opening of the exhibition. The work offered visitors the opportunity to create their own line of wash by changing, adding to or taking away these and other clothes left in the laundry basket. Instructions to the viewer were posted on the flagpole. The installation changed many times during the four weeks of the exhibition and gave new recycled clothing to some participants.
Clouds, 1996-97, suspended sculpture in twelve parts of painted handmade paper and string in Union Station at Utica, New York.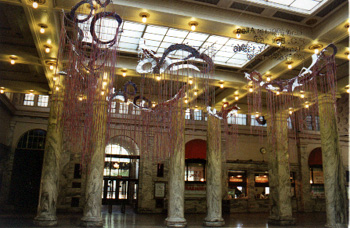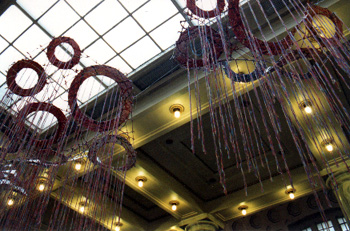 Clouds was a public art installation in Utica, NY's train station, done in cooperation with the Oneida County Planning Commission. The art work remained on view from June 1996 - November 1997 in this historic building modelled after Grand Central Station in New York City. This installation was enjoyed by commuters,travellers and the general public at this active train station and bus station. The spectacular architecture provided a great setting for the art work, and I plan to do other installations there after the renovation of the upper floors is completed.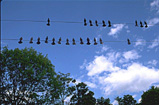 Birds on a Wire, 1995, 2 lines of approximately 100 bird forms, each bird about 12" x 4" x 2"; recycled aluminum printing plates, paint, wire, clothes pins and cables.
"Birds on a Wire" was installed between two trees on the Village Green in Hamilton, NY, for the 1995 summer outdoor sculpture exhibition which celebrated the village's 200th birthday. This sculpture gave the illusion that a large flock of black birds had just landed. I organized and curated the exhibition of contemporary works by seven artists, all present or former residents of Hamilton.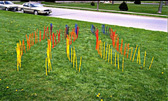 Corn Rows; 1995; 2' x 16' x 12', variable installation, multiple units, each unit approx. 2' tall; recycled coat hangers, paper pulp; paint; polyurethane.

"Corn Rows" was part of the 1995 outdoor sculpture exhibition I organized for the celebration of Hamilton, NY's bicentennial. The sculpture was installed on the village green for the summer along with works by six other artists who are present or former residents of Hamilton. "Corn Rows" has also been installed in the garden gallery at Gallery 53-Artworks, Cooperstown, NY, in November - December 1996. It looked quite different in the snow. It was installed in harvested bundles for this exhibition at Cooperstown called "The Harvest Show", also organized and curated by me.


Selected Environmental Projects
Selected Wall Works and Suspended Sculptures
Selected Multi-part Installations
Selected Figurative Works - Mirrors and Shadows
Selected Collaborative Works with Musicians and Choreographers
The Connemara Installation
Bird Watching Projects